June 21st
UNDER 15's BEAT PODINGTON BY 6 WICKETS
Podington 142 for 7 in 20 overs Wollaston 144 for 3 in 16 overs
Alfie Day 50 retired out Charlie Carted 46 scorecard
June 21st
COMFORTABLE WIN FOR FIRST ELEVEN AGAINST SAINTS IN T20
Seven wicket win ensures another Finals Day on Sunday July 10th at Finedon
June 19th
A WIN FOR THE UNDER 11's v THRAPSTON scorecard
June 18th
FIRST ELEVEN v WELLINGBOROUGH TOWN - MATCH ABANDONED - RAIN
6 points result
June 18th
SECONDS LOSE BY 42 RUNS AT SAINTS lost 3pts
Saints 150 for 8 in 28 overs Wollaston 108 all out in 27 overs
Harry Dolan 30 Jacob Cotter 3 for 30 in 7 overs Josh Steggles 3 for 38 in 10 scorecard
June 18th
EIGHT WICKET LOSS FOR THIRDS AT KISLINGBURY 2nds lost 2pts
Wollaston 135 for 6 in 30 overs Kislingbury 141 for 2 in 26 overs
Cameron Thom 42 Andy Luck 34 scorecard
June 13th
BIG WIN FOR U13s AT THRAPSTON
Wollaston 168 for 3 in 20 overs Thrapston 130 for 6 in 20 overs
June 14th
U15s 14 RUNS SHORT AGAINST O.N's
O.N's 142 for for 5 in 20 overs Wollaston 129 for 6 in 20 overs
May 31st
UNDER 15's WIN BY 4 RUNS
Wollaston 106 for 3 in 18 overs Earls Barton 101 for 4 in 18 overs
Oliver Phillips 41 not out scorecard
May 29th
UNDER 11's TOO GOOD FOR EARLS BARTON
Earls Barton 196 Wollaston 294 won scorecard
MAY 28th THREE WINS ARE THE ORDER OF THE DAY!!
May 28th
HUGE WIN FOR FIRST ELEVEN AGAINST BURTON LATIMER
Wollaston 221 for 4 in 50 overs Burton Latimer 116 all out in 43 overs won 25 pts
Sam Reid 46 Mark Ralph 43 Cameron Monteith 42 Chris Perry 3 for 8 in 9 overs scorecard
May 28th
SECONDS BEAT BOLD DRAGOON BY 140 RUNS
Wollaston 288 for 5 in 45 overs Bold Dragoon 148 all out in 33 overs won 20pts
Josh Steggles 8 for 35 off 10 overs Steve Musgrave 120 Prasanna Chandran 57 Harry Dolan 40
May 28th
THIRD TEAM GET FIRST WIN OF THE SEASON
Horton 3rds 112 all out in 24 overs Wollaston 113 for 5 in 22 overs won 20 pts
Craig Boddington 68 Cameron Thom 33 Nick Dawson 4 for 43 off 8 overs scorecard
May 17th
A GOOD START FOR FIRST ELEVEN IN T20 CUP
Wollaston 140 for 6 in 18 overs Isham & WI 117 for 6 in 18 overs
Matt Jones 51* Chris Perry 3 for 23 off 4 overs scorecard
May 17th
A GOOD WIN FOR THE UNDER 15's AT HOME TO WELLINGBOROUGH TOWN
Wellingborough 81 for 1 Wollaston 82 for 4
Alfie Day 24 Cameron Thom 23 scorecard
May 16th
UNDER THIRTEEN'S FALL SHORT AGAINST OLD GRAMMARIANS
O.G's 54 in 15 overs Wollaston 53 in 15 overs
Alex Laws 15 scorecard
UNDER 11's BEATEN BY WELLINGBOROUGH TOWN
Wellingborough 152 Wollaston 91 lost scorecard
May 14th
FIRST ELEVEN WIN BY 5 WICKETS AT WEEKLEY & WARKTON
Weekley & Warkton 147 all out Wollaston 148 for 5 won scorecard
Mark Ralph 74* Chris Perry 5 for 53 Callum Robertson 3 for 14
May 14th
SECONDS SHORT OF RUNS AGAINST OLD CC
Wollaston 174 all out Old 175 for 6 lost scorecard
Prasanna Chandran 56
THIRDS COLLAPSE AT ABINGTON PHOENIX
Abington 145 for 9 Thirds 62 all out lost 4 pts
Andrew Monteith & Kamran Bahra 3 wickets each. scorecard
NEW NET FACILITY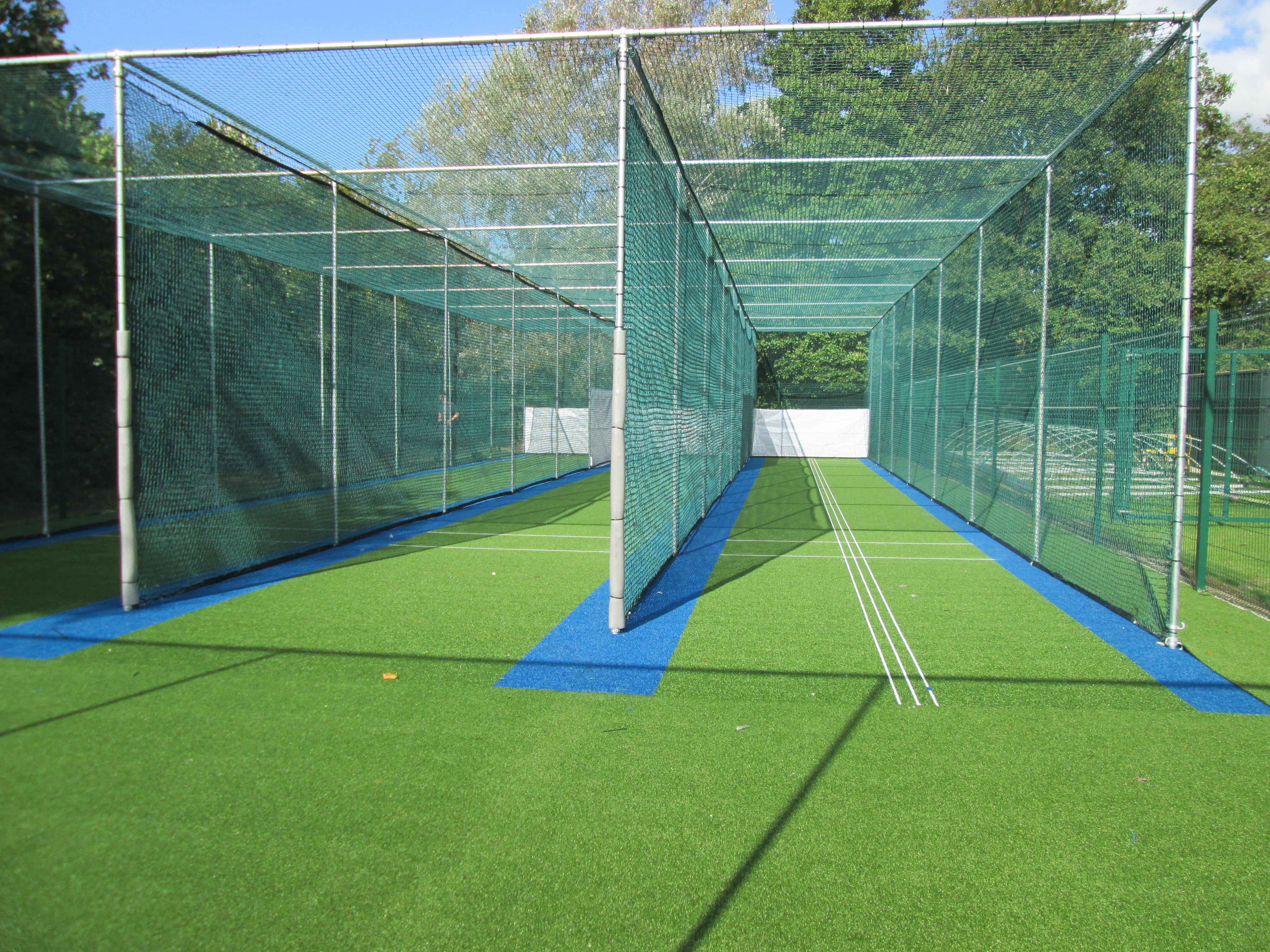 During the early part of January 2021 heavy storms caused problems to many villages around Northamptonshire and along with other cricket clubs we were in the firing line. At one stage the whole field was under water - including the clubhouse along with the enclosed net facility at the far end, adjacent to the bypass.
However, thanks to our insurers who covered the cost, we gradually refurbished the clubhouse, and by the end of the season it was up and running as before the flood.
The nets were not so straight forward. The heavy amount of standing water on the site was so severe that as well as damaging the surface it had penetrated the foundations, and after close inspection it was deemed unsafe and not fit for purpose.
Replacing it was a daunting prospect but fortunately our insurance covered a third of the cost with the remainder being funded by the England & Wales Cricket Board who also guided us through the necessary procedures.
Thanks are due to both parties and we now have a fantastic state of the art replacement which should prove invaluable now, and in the future, and is possibly one of the best in the area. It is longer and wider than the previous net and contains three lanes with extended run-ups and many safety features. Electricity power points will also allow bowling machines to be utilised when necessary.

With three senior teams and a thriving youth and junior section which accommodates youngsters from the ages of five to nineteen, the facility should prove a real asset to our club Wollaston - and surrounding villages, giving our coaches every opportunity to guide, coach and advise our members in a safe environment.

PRESENTATION AT THE HILL BAR WOLLASTON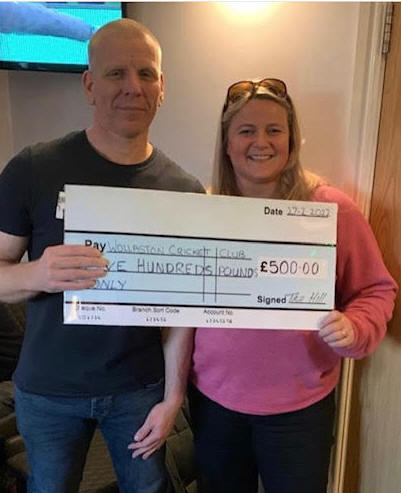 A huge thank you to the committee and customers of the Hill Bar Wollaston who have raised and donated £500 to Wollaston Cricket Club.
We were the most recent recipients of the proceeds from the weekly Meat Raffle.
The photograph shows chairman Andrew Silsby receiving the cheque on behalf of Wollaston Cricket Club from Viv, a representative from The Hill who said she hoped it would help the Club following the recent theft of our mowing equipment from the playing field last month.
Once again - thank you to The Hill.