ARCHIVE
Club Founded 1889
FOR A REVIEW OF A PREVIOUS SEASON CLICK A YEAR FROM THE LIST ON THE LEFT
FOR ALL THE PHOTOGRAPHS click here
---------------------------------
HISTORY
Discovering Our Heritage – A Change of Birthday!
Scroll down
THIRTY-SIX YEARS A CAPTAIN
Do you fancy being captain of a Wollaston cricket team sometime? How about doing it for 36 years on the trot?
Scroll down
July 13th 2020
It is with great sadness that we have to record the passing of five stalwart Club vice presidents since the end of last season.
DENIS PATRICK
Denis (Club number 7) left us in September 2019 and his involvement scanned many decades. He was player, committee member, secretary, treasurer, umpire, vice president and ardent supporter of our Tote. He was also instrumental in setting up an earlier version that ran in the Fifties and Sixties.
On the field Denis's major impact was with the ball. He was part of a strong First Eleven that won the Second Division (now Division One) in 1959, 60 and 61 and his 70 wickets in 1957 still stands as a joint record with Chris Perry. His wily off breaks bamboozled many an opposing batsmen. He took two First Eleven hat-tricks - the first in 1957, and did the same again 1962. He finished with 247 wickets at 9.15 each and without doubt would have taken more if he hadn't voluntarily dropped down to skipper the Seconds in order to help encourage the younger players.
----------------------------------
BOB HAYNES
Bob (Club number 3) was a tall opening bowler who, along with Denis and Hedley, was also a member of the successful First Eleven side that won Division Two in the late Fifties and early Sixties. With a high arm action he managed to get extra bounce out of a wicket that predominantly was more helpful to the spinners. His 358 wickets at just 12.63 is remarkable considering he was in a strong bowling side with so many options for the captain.
Bob was also a loyal hard working committee member and was part of the "team" that built the previous pavilion in the early Sixties, and when the bar was installed he took over the running and 'pulled a good pint'. He batted down the order but given the opportunity he gave the ball a good whack!
When he finally gave up playing Bob was a valued vice president and supported the Club to the end.
---------------------------------------
MICK EDWARDS
Although he never played cricket for Wollaston, Mick was a vice president and spectator who rarely missed a game. He could be found on match days in 'pundits corner', normally at the Wollaston end calmly watching the game. He had good knowledge of cricket and his dry humour and observations were always worth listening to. A loyal supporter.
-----------------------------------------
HEDLEY WALLINGER
Hedley (Club number 12) was possibly the hardest hitting Wollaston batsman during the early 1960's. Anything short would be belted through mid-wicket and fielders would be in no hurry to put hand to ball. He rarely bowled but on occasions when required, would don the pads and gloves and do a tidy job behind the stumps. His 111 runs against Raunds CC in 1968 was the first ever Second Eleven century and it was 17 years later before the feat was repeated.
Hedley was a staunch committee man for many years and worked tirelessly on the building of the previous pavilion.
Like Denis and Bob, Hedley remained a vice president and loyal supporter of the club for the rest of his life.
------------------------------------------------------
JOHN PARTRIDGE
John (Club number 50) made his First Eleven debut in 1969 and played through the 1970's in both teams (1st & 2nd). He batted in the middle order and bowled the occasional off-breaks.
He was club auditor & vice president for many years and The Partridge Trophy - awarded to junior cricketers playing in senior cricket, was donated to the Club in memory of his father, Douglas who umpired on many occasions.
-----------------------------
Denis, Bob, Mick, Hedley and John will be sadly missed.
Photographs of Denis, Bob, Hedley and John below: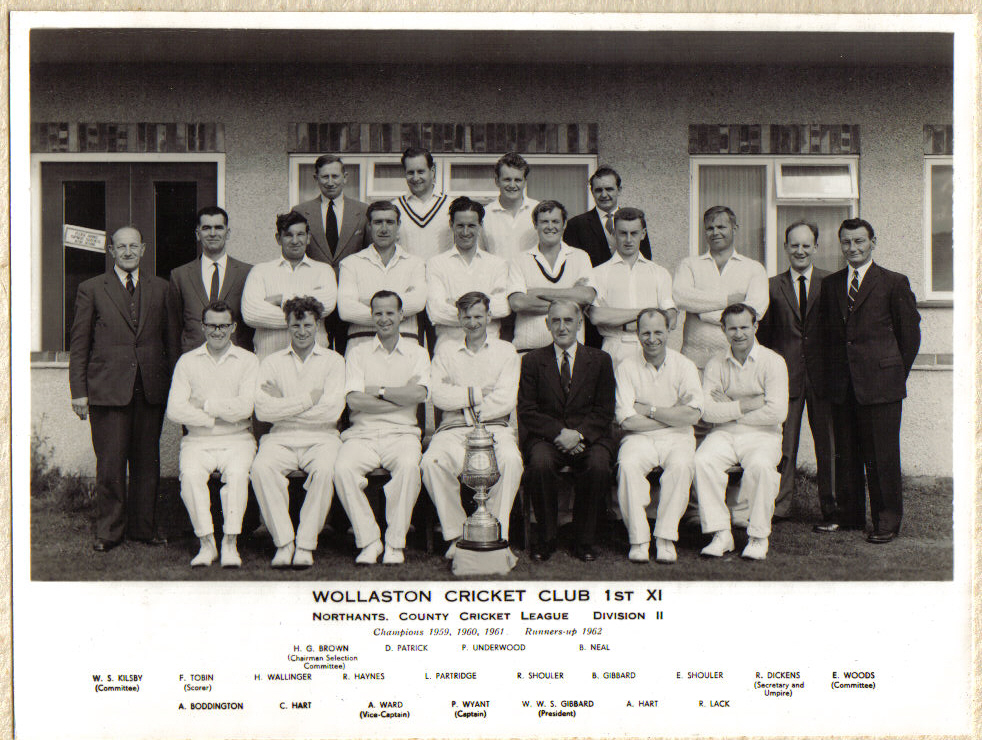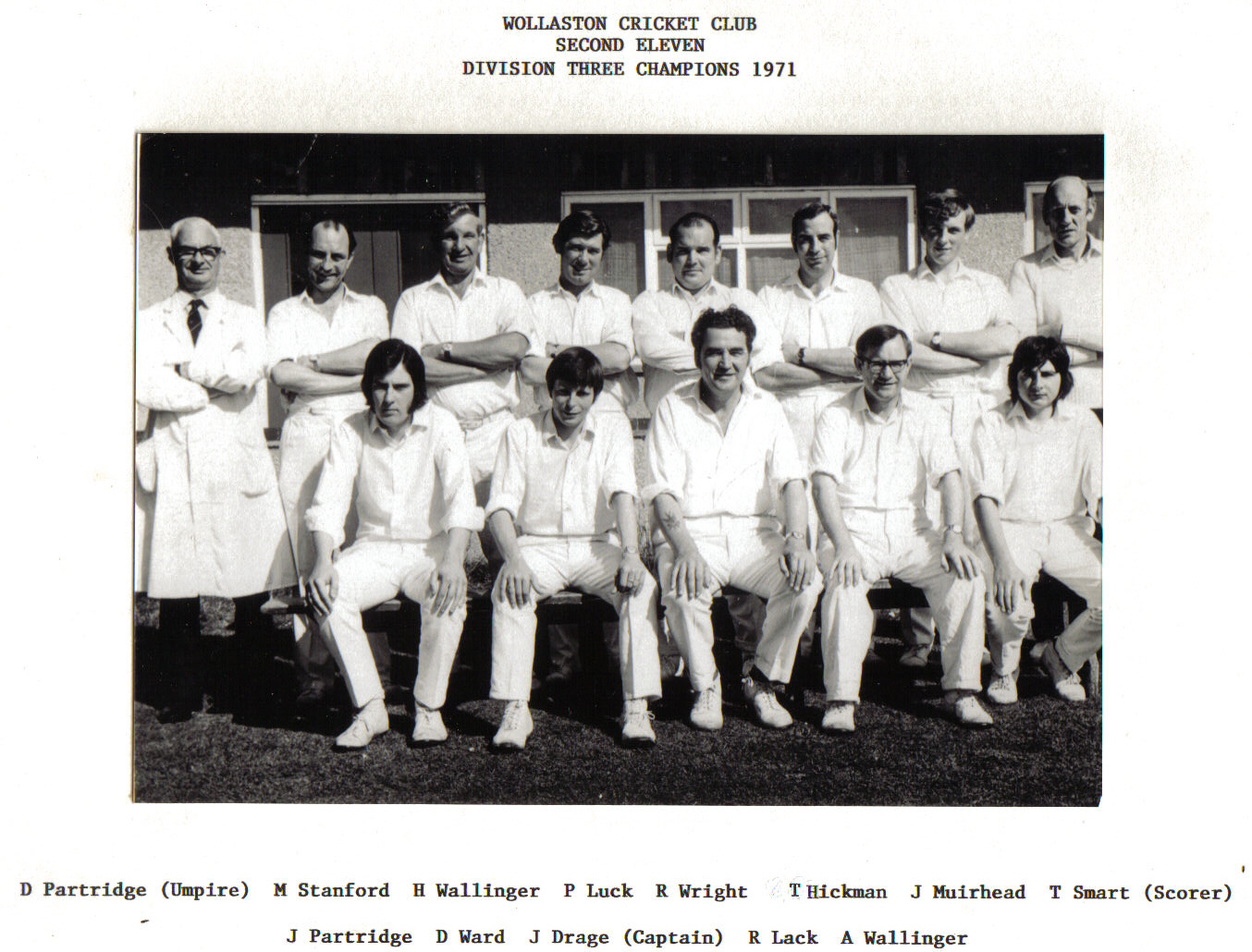 REX BODDINGTON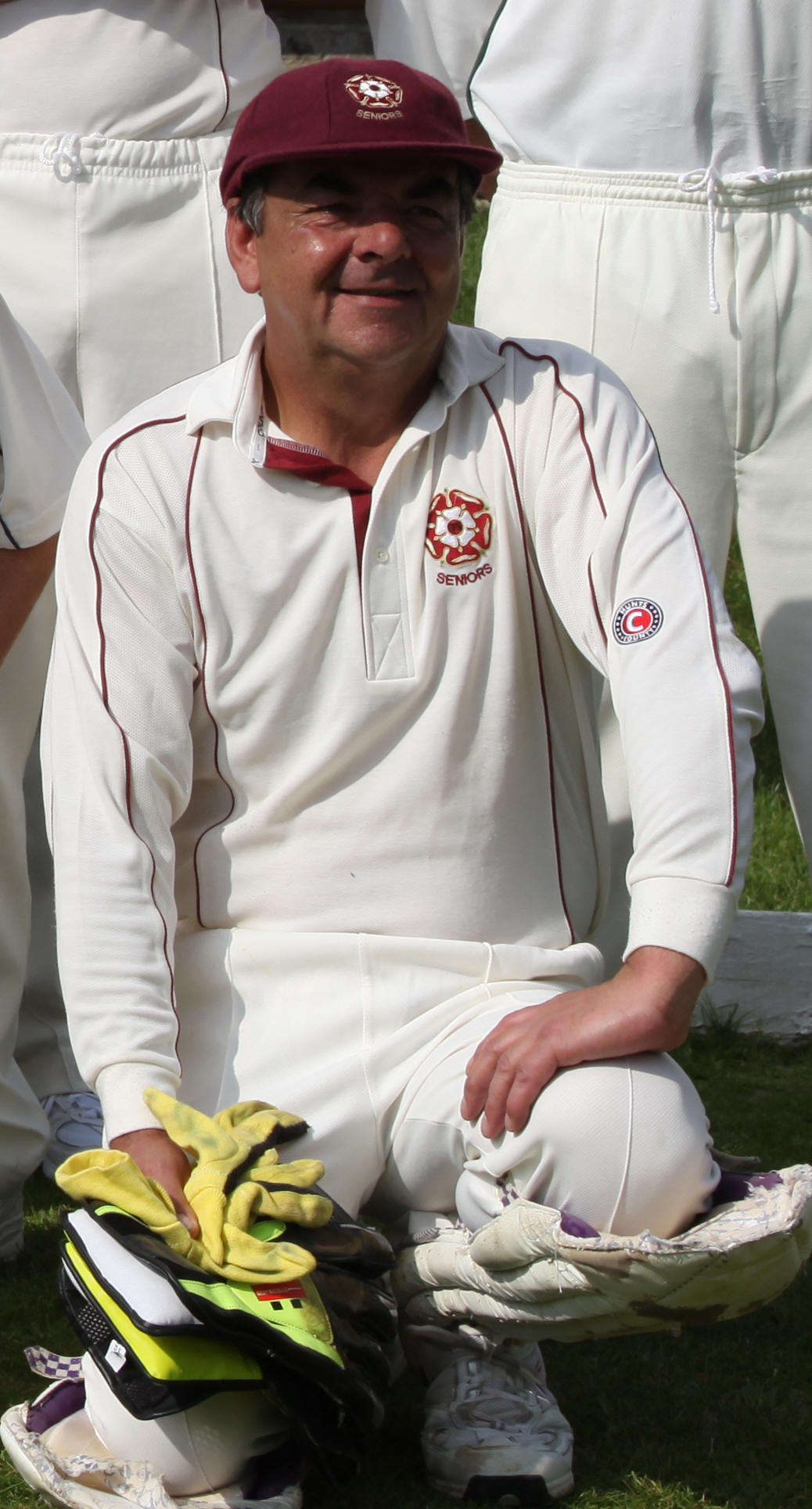 It is with great sadness we have to report that Rex passed away in the early hours of Saturday morning, June 13th 2015
Making his debut in senior cricket aged fourteen, and going on to skipper the First team in 1981, 82, 84 & 88, May 2015 brought up Rex's fiftieth season with Wollaston. In that time he scored around 15,000 league runs including 6,103 for the First Eleven with a highest score of 102 against Rushton in 1987.
Rex (Club number 48) also holds the record for the most First Eleven wicketkeeper dismissals (286) and the most in a season (35 in 1986)
He scored over 7,000 Second Eleven runs with a season's best of 641 in 2002 and went on to add to his total with nearly 2,000 for the Third Team - along with many more for the County Over 50's and 60's.
Rex will be greatly missed, not just in Wollaston but across a wide local area where he also excelled at football, bowls and skittles.

DICK UNDERWOOD
Dick, (Club number 69), who passed away on November 5th, joined Wollaston Cricket Club in the early Seventies and has been the ultimate Clubman ever since. He opened the batting for many years in his own inimitable style whilst at the same time purveying his left arm slow medium bowling which brought him 258 wickets and into "all-rounder" category. He captained the Second Eleven in 1981, 82 and 83 and was vice-captain on several occasions.
As well as playing he was a hard working Committee member for over 40 years and when his playing days were over he took up the smock and was the regular Second Eleven umpire until eventually he decided to watch the game from the other side of the boundary and enjoy a slightly more relaxing Saturday afternoon.
Right up to the end of this season Dick was an invaluable member of the ground staff as well as serving behind the bar every Friday night during the summer and undertaking numerous other tasks for the benefit of other members. The work he did for the Club is immeasurable and the great loss of Dick will be felt by everyone concerned with Wollaston Cricket Club.

For a Review of a particular year, a list of team captains & Club Numbers year click on the buttons on the left or below. Scroll down for articles etc.
WOLLASTON ARE UNDER THIRTEEN CHAMPIONS!
The win against Isham by 77 runs sealed the deal. WCC 115 for 5 off 18 overs. Bethan 29 not out, Marcus King 50 not out. Isham 36 for 4 off 18 overs. An excellent all round performance with great bowling from Ben, Jack and Loui in particular. Just the K.O Cup still to go..........................!
WOLLASTON JUNIOR REPRESENTATIVE CRICKET 2015
We have a number of our players playing representative cricket at District and County level and a few things have caught the eye:
Matt Rea's magnificent 123* for Northants u12s against Derbyshire. Remarkable in as much that he only faced 87 balls and included 16 x 4s and 1 x 6. Matt is the 5th highest runs scorer with 201 in all county age groups.
Another top knock from Marcus King for Northants u13s with 79 against South Northants District u14s. Marcus continues to work hard on his game and it is clearly paying off.
Rob Bassin and Lewis North-Row have contributed for Northants u14s as the team have won 4 of their first 5 games. Rob played a vital innings of 44* off 41 v Norfolk u14s and Lewis 3-23 v Cambs u14s and 3-24 v London Schools u14s has been the pick of the bowlers.
Bethan Soloman is scoring runs for fun for Northants u13 Girls with a top score of 51* against Buckinghamshire U13 girls. Bethan is currently 8th leading run scorer across all County age groups with 117 runs so far this season.
The future of Wollaston CC is in safe hands.
Nick Broome

November 2014 ANNUAL GENERAL MEETING
After more than 22 years at the helm Colin Barber has stepped down from the position of Club President.
Colin has been in office during one of the Club's most successful periods and has been instrumental in the progression and growth that is apparent today.
Nick Shelton, who was unanimously elected to fill the position, paid tribute to Colin for his sterling work over many years.
Captains and Vice captains for 2015
First Eleven Captain: Chris Perry Vice captain: Mark Carter
Second Eleven Captain: Charlie Elderton Vice captain: Andy Luck
Third Eleven Captain Paul Jones Vice captain: Josh Steggles
WOLLASTON CLUB KIT
We are pleased to announce that we have a new kit supplier and the club web shop is now open.
Kit can be purchased through the website.
Please note that there is a delivery charge of £3.99 per order for orders consisting of 1 or 2 items, and for orders consisting of more than 2 items the delivery charge is £7.00 per order.
Orders of £100 and over are free delivered.
Go to the Club Shop, choose your kit: CLUB SHOP
CBCA National Coaching Awards - Runner Up 2012/2013 NEAL PERRY
The Club is very proud to announce that having been named East Midlands Coach of the year back in July, Neal Perry recently attended the ECBCA National Coaching Awards Dinner at Warwick University, which was attended by 500 people and sponsored by Sky Sports. The event was hosted by Charles Colville, with Jonathan Trott as the guest of honour.
Unfortunately Neal didn't win, but received a Runner-up trophy and bottle of champagne, and he would like to thanks everyone at the club for their support, especially his family, along with Nick Broome, David Ward and Colin Barber who appeared in the film that supported his nomination.
Congratulations to Neal on his award which reflects his commitment and dedication to Youth Cricket.

NEWS
Article by Andrew Radd Saturday September 22 2007
Northamptonshire Evening Telegraph & Northampton Chronicle
Wollaston climb to the top of the tree – at last
Times have definitely changed when it comes to communicating tidings of great joy.
In ancient Greece they would have despatched a hapless runner to cover the 20-odd miles, pass on the message and promptly expire from exhaustion.
Many centuries later; news of great English victories was spread by means of a chain of bonfires. Not hugely effective in poor weather and very bad for the ozone layer.
During the Second World War the BBC would place John Snagge, Stuart Hibberd or Alvar Lidell in front of a splendid 'Type A' microphone to announce that Hitler was dead, Berlin had fallen or the cheese ration was being increased.
And so to September 2007 when Matt Jones used his mobile to ring through the details of Wollaston's title-clinching win over Geddington last weekend – while enthusiastic team-mates attempted to pull his trousers down.
That success at London Road was enough to earn the club a fifth Division One (or equivalent) title. But as the first four came in the days before automatic promotion they will be enjoying their debut season in Northamptonshire's top flight next year.
"It's very special," admits David Ward, who made his Wollaston debut back in 1962 and could justifiably claim – if he wasn't such a modest chap – to be the 'soul' of the club, having bagged more than 1,500 league wickets on its behalf.
"My father played in 1959, 1960 and 1961 when they won the old County League Division Two but didn't go up.
"And I played in the 1973 side, along with (NCL chairman) John Hodges, when dad was president of the club. So yes, it means a lot.
"We've put no plans in place really. It has just happened and it's all very exciting. We're just savouring the moment!"
Ward wasn't present when history was made – but his excuse is fair enough.
He was busy playing for the second team – who also won, to kill off the threat of relegation from Division Three – just up the road at Rushden.
"We kept getting updates on what was happening at our ground," adds Ward.
"The first thing was that Harmit (Bahra) had to win the toss this time, and fortunately he did.
"It's rather ironic because when our firsts were relegated for the only time in 1990 it was Horton seconds who beat us on the last Saturday of the season to send us down.
"Now, of course, their first team is coming down and we're changing places with them!"
Founded in 1870, Wollaston joined the Northants County League from the Kettering and District in 1957 and a couple of years later won the first of three successive titles under the captaincy of Peter Wyant.
The Class of '73 put the club's name on the same piece of silverware again, winning nine out of 18 games and edging out Great Oakley by a single point.
But joining the 'big boys' involved more than simply winning the division below. At that time you had to APPLY for promotion (in writing to the Hon. Secretary by September 7) and the existing top division clubs would decide if they wanted you or not.
"It was a bit of a closed shop. When we won the second division we did apply. But we all knew there was no chance of us going up.
"If the opportunity had presented itself, we would have taken it. But to be honest we just played in those days and winning the league was a bonus."
Wollaston have needed to be patient in recent years, too.
Since the NCL came into being in 2003 they have finished no lower than fourth in Division One and were runners-up in both 2005 and 2006 – missing out to Irthlingborough and Burton Latimer by just 14 and four points respectively.
"We didn't always feel we had the rub of the green with the toss in some of those seasons – although I know anybody can say that.
"It just seemed as though a good team would come down, or another team would get a useful overseas player and suddenly perk up, and they'd take it beyond us."
There wasn't, of course, a Northamptonshire League in the 1920s and 30s. But it's fair to say that Wollaston could have been a powerful force in that particular era.
Between 1913 and 1948 a quartet of men from the village – Ben Bellamy, Vernon Murdin, Reg Partridge and Cyril Perkins – played more than 850 first-class matches for Northamptonshire between them.
Which made it hugely appropriate that Bellamy's great-grandson, left-arm spinner Chris Perry, should play a key role in last Saturday's victory by capturing five Geddington wickets.
And the aforementioned Matt Jones – who top-scored with 52 – is the son of Paul, who notched 353 runs at 32.09 in the successful 1973 side.
"I know people think we're a village club and a bit insular. But sometimes it does work in our favour when the generations come through.
"That was a nice touch with Chris and Matt. It just rounded the whole thing off."
As with Burton Latimer a year ago, the existing Premier Division skippers will be quizzing all-and-sundry in the coming months to find out "what's Wollaston like" before the 2008 campaign gets underway next April.
They could do worse than check out the club's excellent website which contains, amongst other delights, a full list of first-teamers' for the last 50 years, from Arthur Ward to David Clarkson.
Proud of what's gone before and hopeful for the future, even Wollaston's opponents (and Isham's record against them has been pretty dire in recent years) will concede they deserve a chance to enjoy the view from the top of the tree.
REPRODUCED BY KIND PERMISSION OF THE AUTHOR, ANDREW RADD, THE EVENING TELEGRAPH AND THE NORTHAMPTON CHRONICLE & ECHO
2005
THE ERNIE BRYAN MEMORIAL TROPHY FOR BEST JUNIOR PLAYER
David Clarkson became the first recipient of this Trophy when it was presented by
President Colin Barber at the Club Dinner at the end of the season.
David, who lives in Northampton, had an outstanding seasonat Under Thirteen level and is a worthy winner.
He is presently representing Northamptonshire in his age group
and we are hoping he will progress to representing Wollaston
at senior level in the future.


2004
Following on with our SHOWBIZ- Split Loyalty interviews, this time, we put Brett Hanson, legend of stage, pitch and dressing room under the spotlight. As most of us know, Brett's has played cricket for Wollaston for many years and has scored over 3,000 league runs, but not everyone in the cricket world knows that he has appeared in over sixty shows and his stage credits include Captain Von Trapp (Sound of Music) and Queen Tulip (Puss in Boots). His baritone singing voice has also been heard in places as far apart as Luton and Uppingham.
Between rehearsals and net practice our SHOWBIZ editor tracked down this modest, un-assuming thespian and number three batsman to find out what makes him tick, and at the same time find out just where his loyalties lie.
Brett Hanson -
Actor
or
Cricketer

?
Q: When and how did you get interested in dramatics?
BH: It was 1982 and I turned the pages for my mum, playing piano at
rehearsals and caught the bug!
Q : When and how cricket?
BH: About the same time. Watching Dave Ward bowling at the slip catching net one summer's evening.
Q : What was your first dramatic role?
BH: A tree in the Christmas play. Miss Blores class, aged six!.
Q : What was your first singing role?
BH: Charlie Cricket, Pinocchio. Wollaston Theatricals 1985.
Q: When did you find out you had a half decent singing voice?
BH: The Gondoliers 1990. Uncle Bob said I had the best voice in
the show.
Q: Would you now consider singing without acting?
BH: Yes
Q: Were you in the School choir?
BH: Yes! I wore a music tie and had the p*** taken terribly!
Q: Did you have a hero in the entertainment field?
BH: My Uncle Bob
Q: What attracted you to both disciplines?
BH: I have always been attracted to discipline!!
Q: Would you like to pursue a profession in either?
BH Yes, both!
Q: Would you turn professional today in entertainment if asked?
BH: Yes!
Q: Would you turn professional in cricket if asked?
BH: Yes!
Q: What would be the ultimate role and venue in entertainment?
BH: Playing the part of Chris in "Miss Saigon" in the West End
Q: Who do you admire?
BH: No one person in particular
Q: Do you prefer pop, classical or musicals?
BH: As long as it has a tune and the performers can sing, I like all three.
Q: Is cricket practice more interesting than rehearsals?
BH: It depends what I'm rehearsing and who is bowling at me.
Q: If you were selected for Lord's and the Palladium on the same
day – which would it be?
BH: Lord's! Every time! No contest!
Q: If you could meet one person from either cricket or entertainment,
who would it be?
BH: Kylie
Q: Are you more nervous batting or acting?
BH: Batting.
Q: Do you ever feel like bursting into song when you are fielding?
BH: All the time! I always have a tune in my head and if you watch me closely you will often see me singing away to myself. I often change the words though. To something like:- "Pitch the f****** thing up Jonah!
Q: Which do you think will go on the longest – your acting/singing or cricket?
BH: I'll keep going at both until the stitching can no longer be repaired!
Q: Would your dream role be acting the part of a cricketing icon in a cricket themed musical?
BH: I would love to play the lead in a cricket musical – as long as I got
some runs! I would like to play Ian Botham – plenty to get your teeth
into.
Q: Who is the more demanding: the director or captain?
BH: I usually find Carole more demanding than most skippers!.
Q: A standing ovation or being clapped in with a Century?
BH: I've never had a standing ovation but I think that would feel better.
Q: Do you have any admissions or funny stories?
BH: Both in one really. We were playing Finedon in a Sunday game
and before we went out to bat I noticed that their umpire was an
old chap called Frank, and some weeks before I had fitted a new
immersion heater in his council house in Wellingborough. "Hello
Frank" I said "I'm Brett, how is your new immersion heater that I
fitted for you?". "Fantastic" said Frank. "That was the first time
I have had hot water in weeks". Anyway, we went out to bat and
were soon in trouble. Their opening bowlers' were bowling quick
and aggressively on a lifting pitch and the ball was flying
everywhere – including around our heads! We were about 20
for three when I eventually gloved a catch to the keeper and he
snapped it up with audible glee. The bowler was even noisier. He
came right down the pitch whooping like an apache at Little Big
Horn and waving his arms in all directions. I knew Frank had got
his finger up but I kept looking down at the ground and because
I thought their whooping and remonstrating did not constitute
a proper appeal, I stayed my ground. "You're out!" said the
bowler. "Am I?" I said. "Am I out Frank?" I said looking up.
Frank stared down the wicket, by now his finger was back
in his smock, "NOT OUT" he shouted in a firm determined voice.
From this point the game changed dramatically. The bowlers
went ragged and got took off and we scored over 200 and
won the game! Which just proves, that all the gamesmanship
in the world doesn't come close to a tank of hot water
where umpires are concerned.
Q: OK, Brett, the crunch question: Which do you enjoy more: cricket
Or singing/acting – and remember – your director, captain and
the Selection committee are listening!
BH: Both equally!
Well, that's the evidence – are we any nearer? Perhaps we should
leave it to one of our vice presidents, Phil Jones, to sum it up. After
watching Brett perform at the Parochial room he happened to meet
him going out. "Well, you sing better than you bat, boy!" said our
venerable V.P. Case closed.
Next time: We interview Neal Perry - Cricketer or Elvis impersonator?


An Interview with…………Darren Laughton
Darren Laughton took over the unenviable and difficult task of captaining the Second Eleven after four years of triumph – finishing Champions each time. Two promotions pushed the team to within one division of our First Eleven and with the exception of Old Northamptonians (who were subsequently promoted), we were the only second string side in Division Two - the highest level that Wollaston Seconds has ever played.
2004 was a different story! With only two wins all season we finished bottom and were relegated back to Division 3. It was hard going for the new captain and perhaps not what he had in mind when he took over. Has it put him off? Does he regret doing the job? After several moths reflecting, what does he think now? Will he do it again?
Was this your first experience as captain? The first time at senior level although I captained several youth sides at Irchester and Wellingborough Town.
Did you think we would struggle? I knew it would be hard but never thought we would come bottom.
Did you enjoy the season? The majority of it. Obviously there were high and low points over the season.
Was there any time when you wanted to pack it in? No, obviously a lot of thoughts went through my mind from time to time but I never once considered it. As we really didn't play to our potential I was always hopeful that the next win was only a week away.
What were the "highs" and "lows"? The highs included the two wins (O.Gs and Saints) and the team spirit and support within the team. The lowest point was at teatime at Towcester following the pathetic and lack lustre performance in the field. Everyone seemed to have lost interest and then we were facing 234 to win! It was our body language that sent out the wrong message.
Which element of the captaincy is the most enjoyable? The all-round responsibility all day on Saturdays'.
And the least enjoyable? Ringing players up to tell them they are dropped.
Why do you think we struggled and subsequently relegated?: I think is was a combination of things. Our pre-season games were cancelled, nets were poorly attended and we got walloped in our first game. We didn't recover from the bad start. We also came very close to several wins in the latter part of the season but things didn't just go our way.
What do we need to do then? Pre-season practice is very important but we need to take early wickets and get at their middle order. When batting first we need to post bigger totals so we can put the game virtually beyond reach of the opposition, which puts more pressure on their batters. We need to control the game more.
Can the Club do anything different off the pitch to make your job easier? I think we need to agree our selection policy and make it clear at the AGM, also we could possibly increase the number of selectors from three, to bring in an extra voice or two. Other than that I think the Club runs very well.
Where do you think we will finish next season? Given the run of the ball, in the top five.
Would you do it again? Yes!

2002
CHRIS PERRY, FOLLOWING IN GRANDDAD'S FOOTSTEPS
When Chris Perry reached the age of sixteen last September it was approximately 90 years since his great grandfather, Ben Bellamy, joined the professional staff at the County Ground. In the same year Mr Bellamy also played for Wollaston in the Kettering & District League cup final against Great Oakley. When he made his Northamptonshire debut in 1920 in a truly remarkable match against Surrey, he was able to view - at very close quarters - history in the making, as Percy Fender flayed a century in 35 minutes.
By this time Ben had already claimed the first of his 645 Northamptonshire victims, holding a catch to dismiss the immortal Jack Hobbs off the bowling of another Wollaston product, Vernon Murdin. He also went on to notch more than 9,000 runs before his retirement in 1937.
Thus, Chris, who bowls slow left-arm, ensures that the family cricketing links with the village and the county are perpetuated. He captained the County's under 15s during 2002 and also played for the Under 16s including the Jersey Festival.
Although Chris finished the season with 23 Premier wickets under his belt he admits it wasn't all plain sailing. "I found it difficult at the start of the year, and all credit to Andy Luck our skipper – he didn't over bowl me and risk me getting hit around and possibly having my confidence ruined. But as the season went on, he gave me more overs".
So Chris, who was at the County Ground in 1999 when David Ripley went past Ben's total of dismissals for Northamptonshire, can be proud of his heritage and of the handsome tribute in Wisden paid by Ben's old captain, 'Beau Brown: " A dedicated professional cricketer, his impeccable conduct on and off the field earned him the respect of all who knew him".


1999: Centenary of a Six
When Darren King struck his straight six during his record breaking second wicket stand at Overstone, little did he know the significance of the date – July 31st 1999.
Yes, you've guessed it, one hundred years to the day since Albert Trott hit perhaps the most famous six of all time!
Batting at the nursery end at Lord's July 31st 1899, Albert Edwin Trott hit a ball over the pavilion at Lord's. Nobody else has ever done this and the ball eventually came to rest in a garden behind the pavilion after striking a chimney on the back downward slope of the roof. Trott had just lobbed a sighter into the seats on the top deck, and in the past once smashed a ball from Fred Tate into the cast-iron emblem on the left tower. Had there been no tower, the missile must surely have carried to Grove End Road which runs beyond the houses and gardens at the rear of the Pavilion.
From the Nursery End stumps to the Pavilion boundary is 90 metres and the roof is 15.3 mts from the turf. The tower adds another 4 metres on top and when you stand on the ground and imagine the ball sailing over the great Victorian building the enormity of the hit is mind boggling.
Apparently Albert, an Australian, was in the Dennis Lillee and Merv Hughes mould of boisterous larger than life characters but at the same time a handy bloke to have in the team. In his maiden Test match, against England at the Adelaide Oval, batting at No 10, he whacked 110 without being dismissed and took eight for 43 in the second innings. Later in his career he qualified for Middlesex and in 1899 became the first to do the double of 1000 runs and 200 wickets, repeating it the following season. Later on however, life turned sour for Albert. He had an unsuccessful benefit in match in 1907, gambled and drank most of his money and retired from playing to take up umpiring. He spent his last few years in poor health lodging in Willesden, where gradually he suffered from depression. Then, fifteen years all but a day since his mighty hit, he pointed a Browning revolver to his head and squeezed the trigger. He was just 41.
The periodical, Cricket Lore is offering £ 10,000 to any batsman who emulates Trott, so all we need , Brett, is a fixture at the Headquarters of cricket. Farooki ,Darren and co will do the rest!


1998
1998 PARTRIDGE TROPHY

Young Player of the Year:

Simon Driver
A top score of 37 not out against an in-law inspired Isham and an excellent 32 in difficult conditions at Rothwell helped Simon to a total of 210 First Xl runs at an average of 16.15.
15 wickets complemented a similar average in the Millman at 23.6 each and hopefully his aggressive bowling will reap the same rewards in the County League before long.
Again it is pleasing to see another erstwhile member of our youth squad make an impact at senior level.
_________________________________________________________________________
1998 Under 11's At The Double !
The Under 11's had another great season, following on from last year's shared Higham League title and County Runners Up spot.
The 1998 season started with rain and our first game against Finedon 'A' being cancelled with no prospect of it being re-arranged, I wonder why?
The rest of the league games were all played and won, so we reached our last game against Oundle knowing that the winner of the match would win the league. The team played very well and we won the game comfortably by 50 runs and without losing a wicket.
We used ten boys throughout the season and they all made vital contributions to the league title win.
The team reached the KO Cup finals day which was held at Finedon and were drawn against Isham in the second semi final, with the victors playing the winners of the other semi between Finedon 'A' and 'B'
In a close semi final it was our bowling and fielding that saw us through as we took ten Isham wickets to restrict them to 204. We made a tentative reply with some tight bowling from Isham, however despite our last pair losing a wicket in the 15th over we were still able to win by 8 runs.
With only a twenty minute break the final against Finedon 'B' started and after losing the toss we were asked to bat. We batted very positively and lost three wickets in reaching 250.
When Finedon began their reply it was our superior bowling and fielding that put us in charge and by the end of the 12th over the game was effectively won as we took eleven wickets in those dozen overs, which gave their last pair an impossible task. However this did not prevent every run this pair scored being loudly cheered, which made the Wollaston boys nervous and a number of over throws were given away which made the crowd cheer even louder. The skipper than got the fielding back on track and having a comfortable cushion of runs, moved the field back to give the batsmen a single and ensured a comfortable return throw to the bowler or wicket keeper. The game finished with a comfortable win by 40 runs for Wollaston and the double achieved.
After the game the team were presented with the league Shield and KO Cup by Mr. Carvell and Mr. Coleman on behalf of the Higham League. Neal Perry – Under 11 Manager


1965
The Local Derby
Back in 1965, when our President was but a slim callow youth, bowling fast off a long run and skippering the Stiffs in his own inimitable way, he had the bright idea of fixing us up with a "friendly" match to fill a blank Saturday.
"Who is available to play in a friendly next week?" said Colin, and we all put our hands up. "Right, it's Bozeat away, leave the Nag at 2 o'clock and we are gonna beat the B…….s!" (Bozeat people!)
Bozeat, away – friendly? There is no such thing. The three words were incompatible. Anyone who had ever played football over there would tell you it was similar to England playing at Ibrox, or in cricketing parlance, fielding in front of the old Hill at the S.C.G !
Because Wollaston had opted out of the Kettering and District League some years earlier, the two clubs had not crossed swords for a long time so we really did not know what to expect. All we had to go on was our recollection of the school team and reports from our "spy" Maurice Stanford who had played for both teams, and lived in Bozeat.
"They are one hell of a side" said Maurice, "and they have got some good youngsters, - you'll do well to win".
We all met outside the Nag's Head the following Saturday after enduring a week of tales of strapping fast bowlers, hard hitting batsmen and a baying mob looking for blood.
The skipper led the motley procession in his Austin A35, along the A509 to the village that took no prisoners –it was like Richard the Lionheart going on a crusade. But not to the Holy land!
We learnt that skippering the home side would be one Alan Brealey, a few years later to become a Wollaston player ; a name that I had heard of vaguely, but of whom I had not had the pleasure of playing with or against.
We had taken a youthful side including young lions, such as John Hodges, Max Bayes and Ted Patrick (who played occasionally for the County Colts), and experienced campaigners in the form of Maurice the spy, who would feed us with useful information as and when the game developed. We parked the few cars we had on Easton Lane and made our way down by the side of the cemetery, across the field and over the wooden bridge into the small cricket field, picking up some mild taunts on the way from school acquaintances, and others who thought the Wollaston "pansies" would wilt in the May sun.
But they under estimated the resolve of Barber's Army and their call to arms which you will have heard sung many a time when England have been playing! It goes …"Barber's Army…. Barber's Army…. Barber's Army - we are the Army, the Barbers Army. Barber's Army…. Barber's Army etc etc)
Anyway, Colin had decided that, should we win the toss we would bat first, "grind 'em in" and then "bowl them out for near to nothing".
Our "spy" Maurice, had done his homework but still insisted that he mingle with the home supporters to try to gauge the sort of total we should be looking at "to give ourselves a chance."
Although at that time limited over games were not the fashion, teams were expected to declare at teatime or, if tea was to be taken between innings, around five o'clock. This was to allow the side batting second nearly an equal share of the playing time. Colin had said that if we hadn't got enough at the half waypoint we would bat on. "We are doing them no favours!" he barked.
At 2.45p.m, after a final pep talk from the skipper, our openers Steve Hillier and Ted Patrick bravely strode out to the wicket to face the onslaught, led by the highly charged A.B. The plan was to not take any early risks, keep Alan out and then build a decent total of around 120, which Colin thought would be enough on a far from lightening outfield.
Things went to plan. In spite of the home skipper charging in off a long run from one end and Rich Green's accurate medium pace from the other, our openers put on 32 for the first wicket before Ted was eventually caught off Alan for 13. This brought the normally hard-hitting Max Bayes to the crease who years later went on to win a Division Two (now the Premier) League winners' medal with Wollaston and then Overstone.
Max reached 34 (including a six) before falling victim to Roger Barker's right arm over, which made way for Pete Luck (uncle to Andy) to join the resolute Steve Hillier who was playing to type and sealing up one end. Unfortunately Uncle Pete only lasted three balls and our skipper who could only manage one, quickly followed him.
On his return to the pavilion Colin said that he thought we had got enough. We were standing at 112 for 5 – not quite the total we had agreed we needed, but Colin was obviously keen to get at them and bowl them out. "Their heads have gone" he said, "They have had it". "No!" said Spy, "they have got a lot of batting, we need to carry on- we haven't got enough yet". What Maurice really meant was –"don't declare yet, I haven't had a bat and it could be my fifteen minutes of fame!"
But the "inside" information" was took on board and we did carry on. Past five o'clock and right through to five to six! For the last 55 minutes of our innings the home side fielders kept looking towards the pavilion, looking for a sign from our skipper which would end their misery. But the more they chuntered the more our man enjoyed it. Our number 6, Glenn Frost added 20, Maurice a careful six, and number eight David. Ward, 13 not out. John Hodges was LBW Brealey for 2 and John Partridge a duck.
So at 5.55 pm we declared with 154 for 9 off 46 overs with only Ken Bailey not visiting the crease. Alan finished with 4 for 32 off his 14 overs and no one could have tried harder.
" They don't like it " said Colin munching his egg and cress at tea "and I think I will open the bowling". We all knew he was going to anyway. He was itching to get at them
So at sometime after six o'clock Colin came charging in off his run that would make Michael Holding look like Wayne Sleep. Whispering Death he was not!
Dave Old took a single off our skipper's fifth ball and a bye doubled the score.
John Hodges paced out his considerable run up at the other end
and opened the bowling fast down the slight slope. His last ball of the over was to Rich Green, possibly Bozeat's best bat and former Wollaston player, it hit him on the pad resulting in an appeal from John and a massive shout/growl from mid-off where our skipper was patrolling like a caged lion.
A Bozeat resident, who was deemed to be the most impartial of the visiting group, was the official at the bowlers end, and after a furtive glance over towards the pavilion to try to gauge what the reaction might be, he raised his finger. We had made the break through.
Colin then bowled a maiden and took three quick wickets, John added three more scalps, including Alan's for just four singles, and just half an hour and nine overs after they started their innings the hosts' were 9 for seven and looking decidedly groggy. One hundred and fifty five must have looked a long way off! . Our skipper then decided to ring the changes, purely to keep the game going and see Bozeat struggle for a little longer.
He took himself and John off, and brought Max Bayes and David Ward on, but the wickets still fell and although another ten were added, the hosts innings lasted just 11.3 overs! 19 all out! Just forty minutes!
Most of the home supporters had filed through the cemetery and were on their way home by this time, but we didn't care, we had one of those days when everything had gone to plan and we were making the most of it ( although we refrained from visiting The Red Lion and really rubbing it in - we weren't that brave!)
At last, Bozeat held no fears for us and we talked of a return match, but unfortunately (or perhaps fortunately!) it never materialised. They took defeat well. Alan was magnanimous as always. Maurice thought we had the best of the wicket (!) but Colin was in no doubt we were a in a different class and "we showed them what County League cricket is all about."
Unfortunately as Bozeat Cricket Club is no more, an overdue return match is not possible. We will just have to rest on our laurels!

HISTORY
Discovering Our Heritage – A Change of Birthday!
For a number of years, using the knowledge that had been passed down over time, it was agreed that the year 1870 was most likely to be the year that Wollaston Cricket Club was founded. Consequently this date was duly adopted as our foundation year, and bearing this in mind, it would mean that the year 2020 would have special significance for the Club. However, it is now apparent that things are not that simple!
After further investigation it would seem certain that cricket was played in Wollaston before 1870 - but not under the auspices of a "Wollaston Cricket Club". Taking this into account it means that, although somewhat pedantic, a constitutional adjustment is needed for the sake of accuracy.
Newspaper cuttings from the local paper at the time certainly confirm that cricket was being played in Wollaston before 1870. In fact there are several match reports from 1865 including a match between "Wollaston" and 'Young Northampton,' and in 1875 Wollaston Mechanic CC played '22 of the Parish', the match staged in a field belonging to George Burnham Esq.
A report from 1877 shows that there were definitely several clubs in the village and along with Wollaston Mechanic Cricket Club, were Star CC and Joseph Hill's Park CC.
One remarkable game from this period was between the afore-mentioned Wollaston Park and The Wellingborough United CC. Park batted first and amassed 220 then bowled out Wellingborough for just 13. Sent in again, United once more made only 13, but this time for the loss 2 wickets – after which the game was called off when the rain came!
Colonel Hill was an instrumental part of the Park Cricket Club and we know they played within his extensive parkland in the grounds of Wollaston Hall (now Scott Bader Commonwealth) where he resided. Indeed Colonel Joseph Hill C.B., J.P., D.L was a very influential person towards the latter end of the nineteenth century, and was a very important figure in the early days of Northamptonshire County Cricket Club. Born in 1850, he was educated at Eton and Caius College Cambridge and served in the South African war. He was made Hon. Colonel in the army in 1902.
Under his guidance the club were very successful – especially in the 1880's where they went on to win the Northamptonshire Rural and District Challenge Cup three times (1883, 85 and 86) and consequently were presented with the cup in perpetuity (which is now in our possession).
However, following the multiple successes earlier in the decade, by 1889 it is possible that other pursuits were being followed in the village resulting in both the Star and Park clubs needing to strengthen their teams. To facilitate this, a meeting was called during 1889 and the following article reported as follows:
"AMALGAMATION OF THE PARK CRICKET CLUB AND THE STAR CRICKET CLUB"
"A meeting was held on Monday evening in the Board School, which was well attended by members of both clubs. Mr Gibbard who presided said they could not get a first class eleven without having players from both clubs. – A good discussion followed, and a proposition was made by Mr J Lucy that both clubs amalgamate and the new club to bear the name of 'Wollaston Cricket Club', and was seconded by Mr Owen Sanders and carried unanimously. Two captains were elected. First Eleven - Mr W Lucy and Second Eleven - Mr F. Green."
So Wollaston Cricket Club was officially born in 1889 and the amalgamation proved successful. With the new club based at Wollaston Hall and under the benevolent eye of their host Colonel Hill, they went on to win the Northampton Cup in 1892 and the Kettering and District League Second Division (South) in 1912 and 1913.
In 1922 the Club needed a new home and the President, Mr Gibbard, offered use of a piece of his land which was referred to for many years as "The Meadow," which, in the late forties/early fifties was expanded and became part of Wollaston Playing Field.
The twenties and thirties proved a golden age for Wollaston C.C. In addition to the first team and recently formed second eleven winning their respective divisions, several Wollaston players received County recognition. Ben Bellamy (wicket keeper), Vern Murdin, Reg Partridge and Cyril Perkins all found the first rung of the cricketing ladder at Wollaston before making their mark for Northamptonshire over many years.
In 1957 Wollaston joined the Northants County League followed by their Second team in 1961. The Club won the old Second Division (now the Premier) in 1959-60, 61 and again in 1973 and have been runners up on several occasions including 2006.
In 2006 the Club reached the Board 20 Finals Day At the County Ground-losing in the semi final and in 2007 won the division one title and gained promotion to the premier division. In 2009 the Club won the Board 20 Plate.
The Club has a thriving Youth Section under the guidance of a senior coach and competes at Under 11, Under 13 and Under 15 age groups, and has strong links with several schools in the area and is now Clubmark accredited.
The Club also stages and encourages Junior NCB representative games at Wollaston and considers this aspect of the club to be vitally important.
Except for one season (1991) the First Eleven played in the second tier of Northamptonshire cricket from 1957 until 2007 but after winning the Division One title we were promoted to the top level (Premier Division) in 2008. A great achievement and one that the Club and everyone associated with it (members, vice presidents, sponsors and supporters) should be justly proud of.
In 2006 & 2014 the Club reached the Board 20 Finals Day At the County Ground-losing in the semi finals.
In 2010 the Club added a Third league team for the first time. Competing in Division Thirteen of the Northamptonshire Cricket League and following subsequent promotions the Thirds have progressed upwards to Division Nine.
ARCHIVE CLUB HONOURS CLUB NUMBERS ARCHIVE PHOTOGRAPHS FIRST ELEVEN CAPTAINS SINCE 1946 ABOUT US CONTACT US