2022
JUNIOR & YOUTH SECTION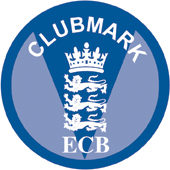 TRAINING
UNDER 11 & UNDER 13: THURSDAY 6.30pm STARTING APRIL 28th
UNDER 9's FRIDAY 6.30pm REGISTRATION APRIL 29th

JUNIOR PHOTOGRAPHS click

2020
Due to the Covid 19 pandemic, junior cricket was not possible in 2020

2019
Mon May 27th
UNDER 9's REACH SEMI FINALS AT FINEDON TOURNAMENT
Well done to the lads who represented Wollaston at Finedon's Under 9's tournament on Monday.
We went with a young side but still won 3 out of our four group matches but unfortunately lost to a very good Finedon side in the semi final.

JUNIOR & YOUTH UPDATE 2019
* Coaching sessions for the U11's, U13's & U15's will take place on Thursday or Friday evenings, but start dates will be set by the respective team coaches.
* Coaching sessions for the U19 squad will also be taking place on Thursday's and these will be arranged by Nick once the season is underway.
All Stars
* Starts on Friday 24th May and ends on Friday 12th July. Participants who have signed up for All Stars are welcome to attend coaching sessions before and after the All Stars programme.
Coaching Master Classes
The club will be holding a series of coaching Master Classes for our U11 to U17 year old players, which will be planned by our Youth Development Coach, Nick Broome. These will be held on Thursday evenings and will be free of charge.
Each Master Class will cover a key aspect of the game and will have club legends and young 1st Team players in attendance to pass on some skills and knowledge.
* 25th April - Fielding / Wicket Keeping
Nick Broome (ECB Level 3/Northants U14/1st Team Coach & Mark Carter (over 250 dismissals)
* 2nd May – Pace Bowling
Shea Gribben (2019 Overseas Cricketer)
* 9th May – Batting
Paul Jones & Matthew Jones (over 26,000 combined runs)
| | |
| --- | --- |
| | UNDER NINES' TOURNAMENTS |
| Bank Holiday Monday May 27th | Finedon |
| Sunday July 9th | Overstone |
| Sunday June 30th | Wollaston |
| Sunday July 7th | Irthlingborough |
| Sunday July 21st | Thrapston |


2018
UNDER NINE TOURNAMENTS 2018
Sunday June 10th
WOLLASTON UNDER NINE'S REACH TOURNAMENT FINAL
A great day for Wollaston Under 9's making it into the final at Finedon - the first tournament of the season.
Unfortunately they lost to a Northampton Saints by just three runs. A fantastic effort. Thanks to all the players and supporters for their enthusiasm.
Wollaston 24th June
Rushden 8th July
Thrapston 15th July


Junior Awards 2017

Ernie Bryant Trophy - Junior Player of the Year = Ashton Musgrave


John Spriggs Shield - Most Improved Young Player = Jacob Cotter (a new presentation in memory of John Spriggs who was a lifelong player, supporter and vice president of Wollaston

CC).

Under 11's:

Batsman of the Year - Harry Dolan;

Bowler – Michael McGowen; Players' Player - Harry Dolan

Under 13's:

Batsman of the Year - Nathan Folkes ;

Bowler - Ben Hodson; Players' Player - Aidan Melly

Under 15's:

Batsman of the Year - Elliot Burn;

Bowler - Liam Healey;

Players' Player - Bethan Solomon

May 23rd

THREE OUT OF THREE FOR THE UNDER FIFTEENS

A good win against Finedon

WCC 102-9 in 20 overs ( Marcus King 51 not out), Finedon 86-9 - wickets for Jacob Cotter, Liam Healey and young Ashton Musgrave. Perhaps not at our very but it makes three wins out of three.

Big thanks to Tom Doyle and Nathan Healey for their help and support.
Scorecard

Mon May 16th

UNDER 15

Resounding win for wcc15s on a wet evening, Oundle 76-2 off 14, WCC 77-1 off 12. Scorecard

Unbeaten thirties from Cameron Melly and James Dawson saw us home. Big thanks to Paul and John for getting the game on and Nathan Healey for umpiring.


May 15th
UNDER 13
Good win for the 13s last night against Rushden.
We knocked them over for 50 with Nath, Tom, Sam and Jack sharing the wickets. We passed them 2 down with Harry and Ash both finishing 21no. Scorecard

Sun May 14th
UNDER 11
Wollaston Under 11s beat local rivals Grendon 232 to 227.
Sun May 14th
Wollaston Under 11s beat local rivals Grendon 232 to 227
--------------------------------
Wollaston Under 11s had their first league game of the season against Podington and had a good win; 291 to 223 with all the boys doing well.
-----------------------------
The U13s recorded their first win at Thrapston . WCC 117 for 4 in 16 overs, Nathan Folkes 37 and Ashton Musgrave 37 no. In reply Thrapston 63 for 4. Ben Hodson 2 for 5. Scorecard
With the recent sad events our thoughts and condolences go out to the families, friends and the wider Thrapston community.
-----------------------------
Great performance by the under 15s at Irthlingborough, WCC 93-5 off 16, ITCC 64-9. Too many good performances to mention but Cameron Melly made 23 and took 3-1 and Kieran Haldenby scored 15 , both on debut - a great team effort. Well done.
As a club and as a village, Wollaston should feel proud of the way we have grown our youth cricket section over the last 20 or so years and provided a pathway for our young cricketers to make their way into adult cricket. Over the last few years mainly through the guidance of Darren, Simon and Nick we have had a steady stream of players making that transition and last season saw what was perhaps the youngest average age of a Wollaston 1st team we have ever had. We regularly played up to 8 current and former youth team players in the same team. So, although we can rightly pat ourselves on the back, we don't want to just stand still and as such the club have asked Nick Broome to take on a role to help oversee the development of the club's young cricketers.
Nick armed with his new Level 3 qualification will be working closely with all the junior coaches to co-ordinate youth coaching and provide support to them when needed. He will also in discussion with the coaches assess how players are developing and when to give them different opportunities to play in older age groups or make the move to play adult cricket. This will hopefully lead to recommendations being made to the selection committee of when young players are ready for their first or next challenge in adult cricket.
Finally, Nick will act as our youth liaison with Northants Recreational Cricket up at the County Ground.
JUNIOR COACHING
Junior coaching starts at the club on Friday 21st April.
Young players will be placed into 3 Age Groups: i) U8 ii) U9 iii) U11.
Each sessions will cost £2 and will commence at 6.30pm and last at least an hour.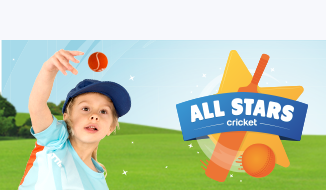 We will be participating in the new ECB initiative All Stars Cricket which starts on May 19th and runs for 8 weeks. If players are signed-up for All Stars, via https://www.ecb.co.uk/play/all-stars the £2 session cost will not apply for these 8 weeks.
The cost of signing up to All Stars is £40 and is paid to All Stars and not to Wollaston CC.
Each participant will each receive the following equipment:
Backpack : Cricket Bat : Cricket Ball : Personalised shirt with their name : Cap : Water bottle
If players are not signed up for All Stars Cricket, they can still attend the sessions, but will obviously not have the equipment.
Under 13 & Under 15
We will be entering a team in the Higham Youth League.
The U11 team will have their coaching night on Friday's and will be managed by Steve Musgrave. Steve will be supported by Matthew Grant and James Day, who are both undertaking their Level 1 coaching course in the new year.
The U13 team will have their coaching night on Thursday's and will be managed by Simon Parsons. Simon will be supported by Chris Dolan.
The U15 team will have their coaching night on Thursday's and will be managed by Darren King. Darren we are hoping will be supported by our selected Overseas player for 2017.
Under 19
We will also be entering an U19 side in the ECB U19 T20 Cup completion, with this side being managed by Nick Broome.
UNDER NINE TOURNAMENTS
25th June – Wollaston
16th July – Thrapston
23rd July – Finedon

2016
AWARDS FOR WOLLASTON CRICKET CLUB
COUNTY JUNIOR & YOUTH
Wollaston youth players Ashton Musgrave and Bethan Soloman were amongst the Annual County Awards. In recognition of their achievements for Northants in 2016 and as a result of their continued hard work, focus and development of their game, they both received awards from Club captain Alex Wakely.
In his first year at County, Ash won the u10 bowler of the year award. He had a great debut year at Northants and was recognised by the coaches for his 9 wickets over the season at an average of 11.56 and economy 3.71. With best bowling of 3-24 against London Schools, Ash has impressed a number of coaches this season and has a bright future ahead of him.
Bethan was awarded the overall youth player of the year at Wollaston in 2016 and this was followed up by her receiving the prestigious overall player of the year across all Northants county girls cricket. Bethan played for Northants u15s and u17s this season and made her debut for the full Northants Stilettos. She finished top of the bowling stats across all boys and girls age groups with 31 wickets and a best of 4-9 v Derbyshire. She finished 3rd in the overall batting stats with 615 runs, an average of 30 and a top score of 66* v Shropshire. A terrific season and a well deserved recognition which also saw her receive both the bowler and batter of the year for Northants Girls u15s. What a season she has had!
We are very proud of Ash and Bethan and offer our congratulations to them both.
HIGHAM FERRERS & DISTRICT UNDER 13 FINAL
Wollaston Under 13's are Double Winners!
Wollaston had a comfortable nine wicket win in the final to claim a much deserved double success. Old Grammarians 40 all out , Wollaston 41for1 off 13 overs. A fantastic alround team performance, with excellent bowling from Ben 4-2.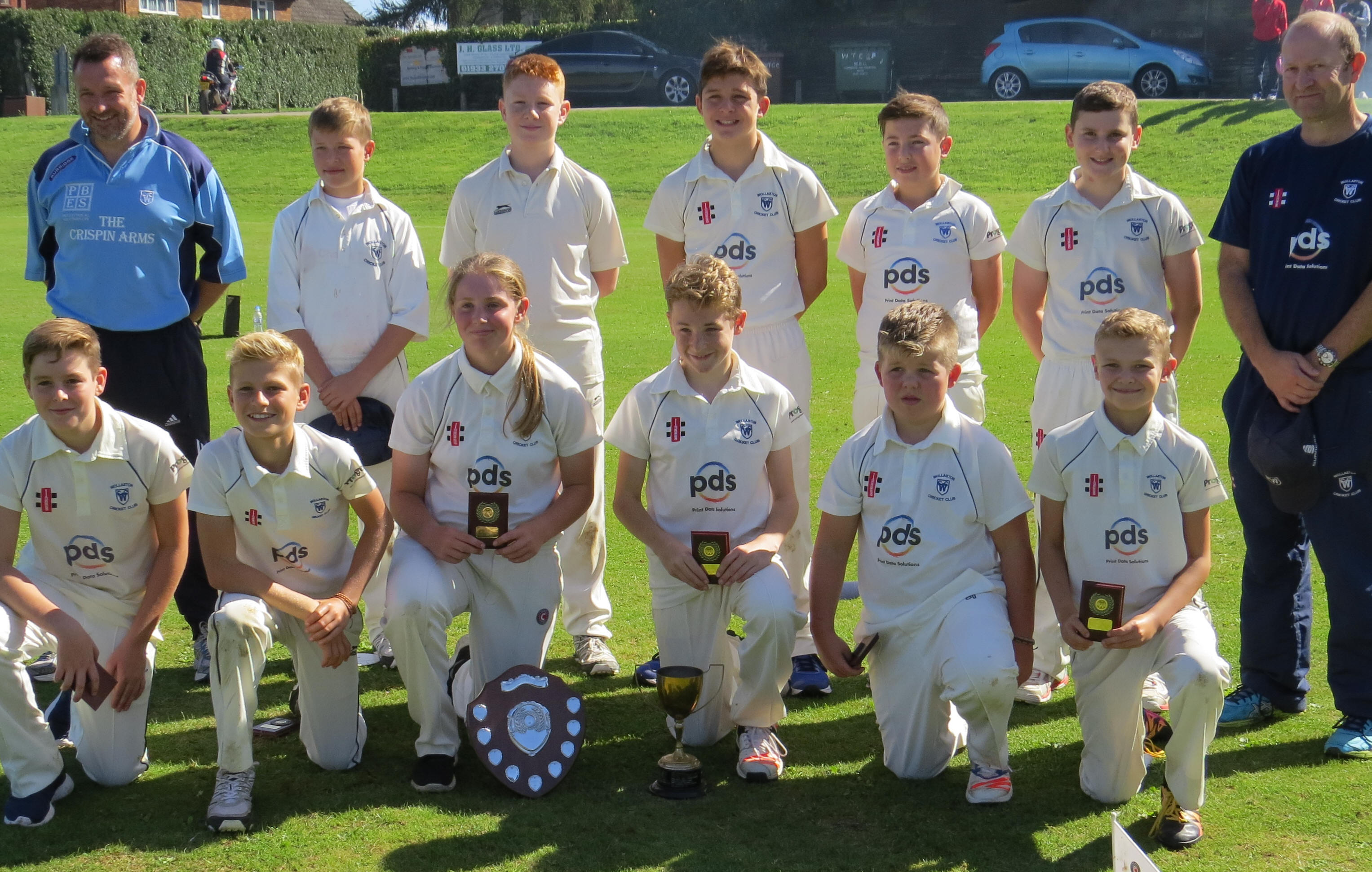 Above the Under 13 Squad at Wellingborough and below Ben Hodson about to be congratulated on taking another wicket during a bowling spell that saw him take 4 wickets in 4 overs for just 2 runs.

WOLLASTON UNDER NINE'S WIN THE THE WOLLASTON TOURNAMENT!
Great win for the Under 9's down the field yesterday - winning their third tournament of the season after a Super Over, with the scores all tied up after 8 overs each.
Well done to all the boys and James and Matt for coaching them.
No training this Friday and we have the presentation night for all the kids age groups.
BBQ will be on and bar open for our last Friday of the season.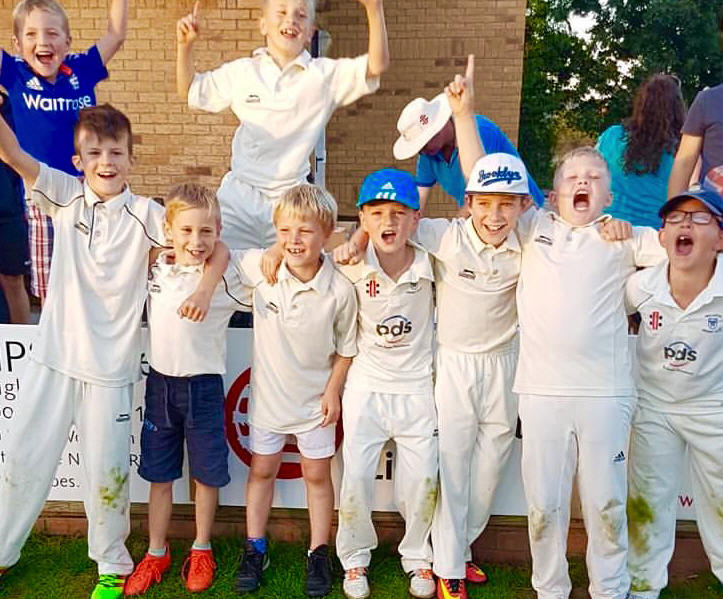 UNDER ELEVENS BEAT WELLINGBOROUGH
Great win for the Under 11's yesterday beating local rivals Wellingborough by 40 runs. All the boys contributed but special mentions to Mason Connolly who did a great job behind the stumps for the first time as well as some big hitting and Henry Abbott on debut being on a hat trick and ending up with 3 wickets in his 2 overs as well as some good runs. Well done boys.

Wollaston under 13s won the Higham and District league for the second year on the trot with a convincing win against Isham. Isham's score of 95 never troubled Wollaston and contributions from Jacob, Bethan and Elliot saw us home with 5 overs to spare. We have a Cup semi-final at Rushton coming up as we seek to do the double for the second year.

WOLLASTON UNDER 13's
Our U13s beat Raunds by 65 runs to reach the semi-final of the knockout cup.
Wcc 129-3 off 18 , Harry Dolan 33, Jacob Cotter 22, good contribution from Nathan and Beth.
Raunds 64 all out, three wickets each for Jack and Will , two for the Duffy boy. Top of the table clash on Monday down the field against Irthlingborough. scorecard
-----------------------------------------------------
WOLLASTON UNDER 15's
U15s move to joint top of the league with a convincing win against Earls Barton last night.
Wickets shared around and runs knocked off for the loss of 1 wicket.
Well done Robert Bassin and Marcus King who captained the side with no input from the coaches on any aspect of the game plan. scorecard
---------------------------------------------------
WOLLASTON UNDER 13's
High scoring win at Earls Barton with Beth Solomon making 53 not out scorecard
---------------------------------------------------
WOLLASTON UNDER 9's
They have only gone and done it again!!!!
The Under 9's made it two tournaments in a row with a win at Rushden yesterday!!! Well done boys!!!
-------------------------------------
WOLLASTON UNDER 19's
Great win for Wollaston Warriors u19s.
Warriors169 - Elderton 47 Drage 38* Broome 28 Momi 26. Burton 104-8.
Wickets shared. Robert Bassin was the pick of the bowlers. Good fielding display. Thanks to the Wollaston Barmy Army for your support - the lads really appreciated it. scorecard

March 2016
CONGRATULATIONS to the following junior/youth players who have been selected for the County Youth squads this season.
Ashton Musgrave Under 10, Nathan Folkes Under 12, Marcus King Under 14, Bethan Soloman Girls Under 15,
Caitlin Monteith Girls Under 17, Harry Broome Under 17.
Ashton has been selected for the first time, whilst Harry has been selected for the 8th consecutive year.
Well done to all of them!

2015
WCC UNDER 13s 'MAKE MINE A DOUBLE!!'
(Scroll down for photo's)
The Fanta and Sprite was being sprayed as Wollaston under 13s pulled off a Higham and District League double last night by beating Rushden 'A' by 34 runs in the knockout cup final down 'the field'.
This victory rounds off an excellent season for the squad who sealed the league with a win at Isham a month or so ago , and is a tribute to the hard work put in by all and the imaginative captaincy of Bethan Solomon, who led from the front on the field and with bat and ball.
Rushden won the toss and elected to bowl on a gloomy night in front of a large crowd.
A puncture delayed the arrival of Elliott Byrne so Captain Solomon and Marcus King opened the innings and immediately got the scoreboard turning with a mixture of stolen quick singles and bashing bad balls to the boundary. Rushden were excellent in the field and saved many boundaries , but still the 50 was up in over 8.
Marcus stepped on the gas and soon bought up his 50 (retired not out) leaving Bethan 47 not out and James Dawson (6 not out) to reach 128 in our 16 overs, an excellent score.
Rushden's innings started well and looked threatening at 16-0 off of 2 overs, before Liam Healey bowled his 4 overs for 14 leaving Rushden well behind the rate.
A clatter of wickets, two for Jacob Cotter and 3-8 for Elliot Byrne closed the innings on 94, causing scenes of wild celebrations amongst the WCC faithful.
Another all-round solid team performance echoed the season as a whole the squad has developed and played up to the high standards that I have set, well done to all. scorecard
Outstanding under 13 performances 2015:
James Dawson – 285 runs Marcus King – 362 runs for one out. Bethan Solomon – 186 runs for one out.
Elliott Byrne – 158 runs Liam Healey – 10 wickets Jacob Cotter – 9 wickets Marcus Davis – 11 wickets (including 5-6) Matthew Elderton – 7 wickets
Although I must emphasise it is a TEAM effort everyone played their part.
Next season for the 13s will be a season of change as we lose Bethan (Maybe), Marcus King , Marcus Davis , Tom Halliday, James Dawson and Liam Healey to the 15s, but we still have a lot of quality and promising cricketers coming through from the 11s.
The running of the team and training doesn't happen by itself so I would like to thank the following people for their help in some capacity;
Nick Mosey, JJ, Graham Richards, Andy Cotter , Steve Solomon, Tom Hodson, John Hodges and the parents for their total support, apologies if I have missed you but thanks anyway.
Darren King
WOLLASTON UNDER 13's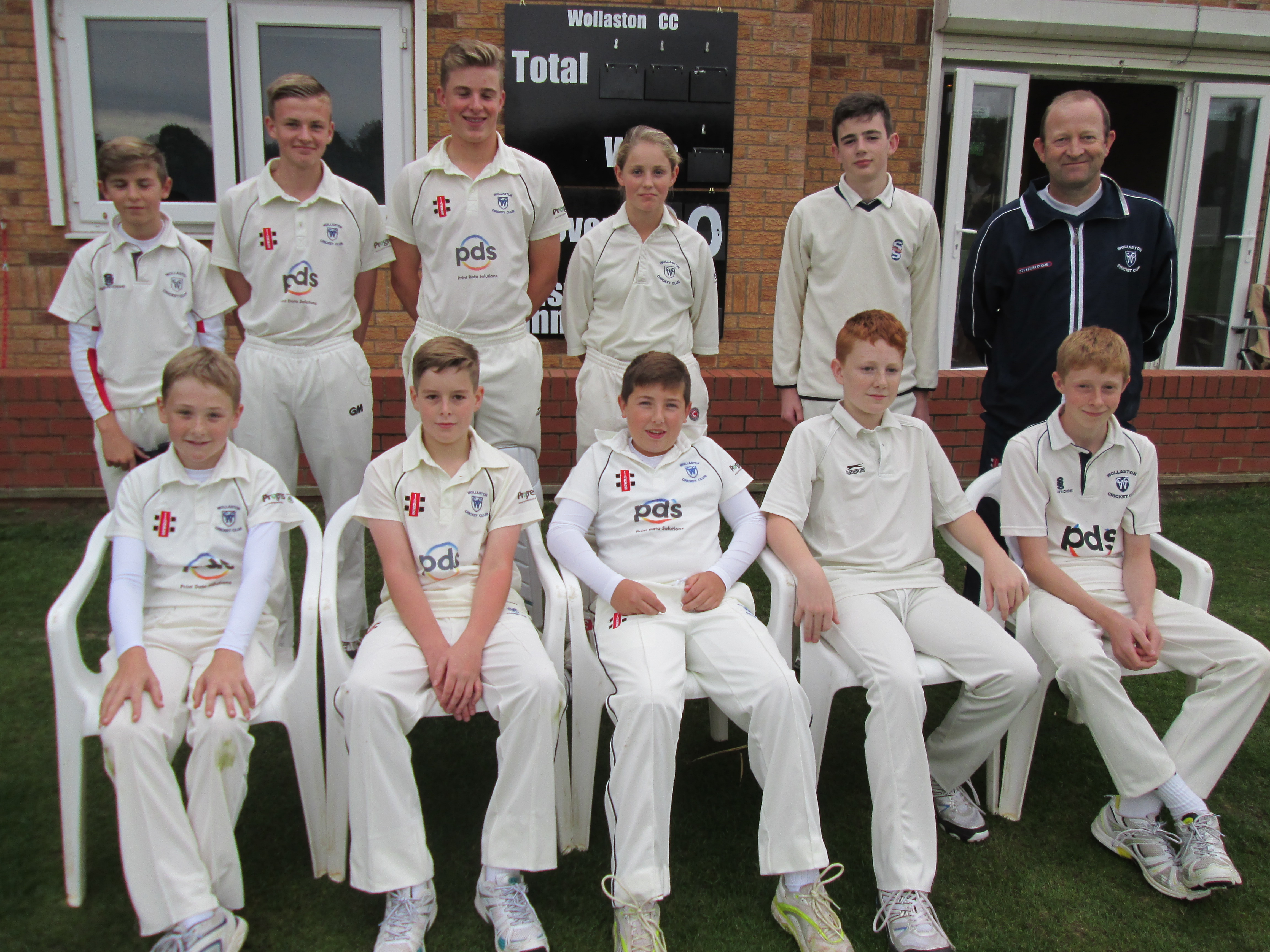 Liam Healey James Dawson Marcus King Bethan Soloman (Capt) Tom Halliday Darren King (Manager)
Jacob Cotter Max Henson Matthew Elderton Will Geddes Marcus Davis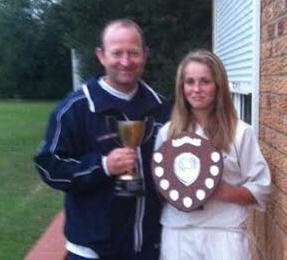 Darren King (manager) & Bethan Solomon (captain) proudly show off the two Under Thirteen trophies

JUNIOR ARCHIVE PHOTOGRAPHS click
UNDER 11's AT THE COUNTY GROUND
WCC Under 11's played Horton Under 11's in a short form of soft ball cricket during the interval of the Steelbacks Royal-London One Day Cup game against Gloucestershire at the County Ground on Monday (17thAugust).
Wollaston won by one run and all the lads were a credit to our club.
Well done to; (From left to right) Tom Pellant, Elliott Duffy, Jack Parsons Ben Hodson, NCCC Representative, Aston Farman, Loui Murphy, and the Brooks brothers; Lewis and Owen.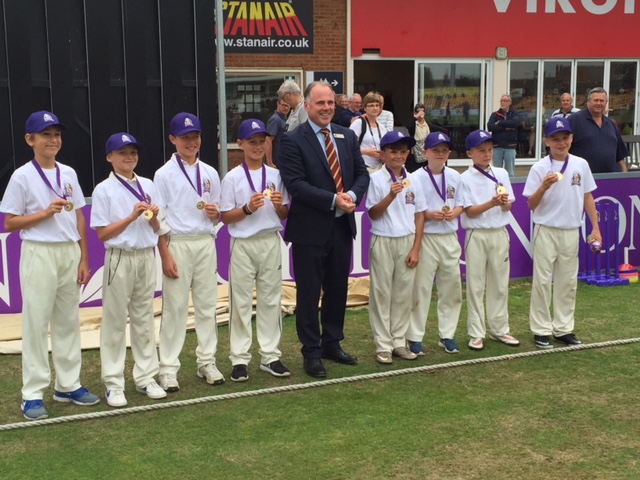 August 17th
UNDER 15's KNOCKED OUT IN SEMI-FINAL BY A STRONG IRTHLINGBOROUGH SIDE
Irthlingborough 86 for 3 in 16 overs Wollaston 66 for 9 in 15 overs
Wollaston Under 15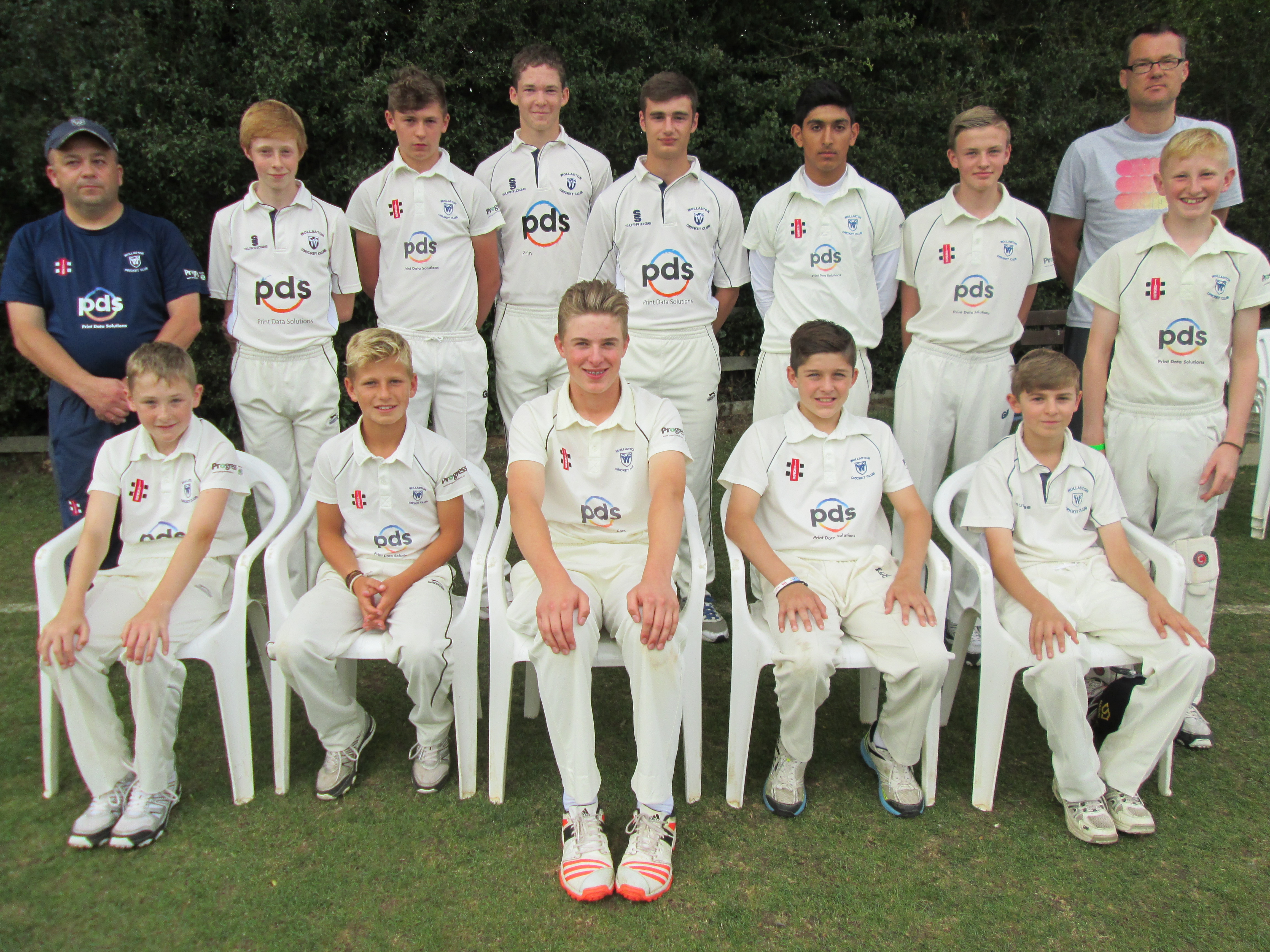 Nick Broom Marcus Davis Nathan Healey Louis North-Row Max Halliday Robert Bassin James Dawson Jim North-Row
Jacob Cotter Ben Hodson Marcus King Elliott Byrne Liam Healey Dan Hodson
WOLLASTON ARE UNDER THIRTEEN CHAMPIONS!
The win against Isham by 77 runs sealed the deal. WCC 115 for 5 off 18 overs. Bethan 29 not out, Marcus King 50 not out. Isham 36 for 4 off 18 overs. An excellent all round performance with great bowling from Ben, Jack and Loui in particular. J
HEAD COACH :Neal Perry Community Sports Coach: Chris Perry Contact: Neal or Chris for further details. Tel: 01933 663735
Welcome to the Wollaston Cricket Club Junior and Youth section of this website. We run three age group teams competing in the Higham and Rushden Youth League. The three age groups are Under 11's Under 13's and Under 15's. Most home games will be played on a newly laid artificial wicket.
We are also proud of our younger members of the age of 6- 9, who practice and have "FUN" on a Friday night from 6.30pm – 7.45pm, training on the outfield at the same time as our First and Second Eleven squads.
We have a wealth of committed and highly qualified coaches some of whom play for the First and Second Elevens on a Saturday.
Under 11's Match day Sunday morning.
Under 13's Match day Monday night.
Under 15's Match day Tuesday night.
If you have a player that is interested in playing or if you are available to help on a training night or match night then please contact the Club.
UNDER NINE TOURNAMENTS & FRIENDLIES 2015
FRIENDLIES - All at Wollaston
O.N's June 5th
Finedon June 12th
Thrapston June 19th
Rushden TBA
------------------------
FORTHCOMING LOCAL UNDER 9 TOURNAMENTS
At Geddington June 21st
At Rushden June 28
At Finedon July 5th
At Thrapston July 12th
At Irthlingborough August 9th
At Wollaston August 23rd
WOLLASTON JUNIOR REPRESENTATIVE CRICKET
We have a number of our players playing representative cricket at District and County level and a few things have caught the eye:
Matt Rea's magnificent 123* for Northants u12s against Derbyshire. Remarkable in as much that he only faced 87 balls and included 16 x 4s and 1 x 6. Matt is the 5th highest runs scorer with 201 in all county age groups.
Another top knock from Marcus King for Northants u13s with 79 against South Northants District u14s. Marcus continues to work hard on his game and it is clearly paying off.
Rob Bassin and Lewis North-Row have contributed for Northants u14s as the team have won 4 of their first 5 games. Rob played a vital innings of 44* off 41 v Norfolk u14s and Lewis 3-23 v Cambs u14s and 3-24 v London Schools u14s has been the pick of the bowlers.
Bethan Soloman is scoring runs for fun for Northants u13 Girls with a top score of 51* against Buckinghamshire U13 girls. Bethan is currently 8th leading run scorer across all County age groups with 117 runs so far this season.
The future of Wollaston CC is in safe hands.
Nick Broome
CONTACT: Neal or Chris for further details. Tel: 01933 663735
HEAD COACH - NEAL PERRY
Welcome to the Wollaston Cricket Club Junior and Youth section of this website. We run three age group teams competing in the Higham and Rushden Youth League. The three age groups are Under 11's Under 13's and Under 15's. All home games will be played on a newly laid artificial wicket.
We are also proud of our younger members of the age of 6- 9, who practice and have "FUN" on a Friday night from 6.30pm – 7.45pm, training on the outfield at the same time as our First and Second Eleven squads.
We have a wealth of committed and highly qualified coaches some of whom play for the First and Second Elevens on a Saturday.
The age groups are run by the following:
Under 11's – Coaches – Neal Perry – Wollaston CC Head Coach – ECB Level 2 the Under 11's play on a Sunday morning.
Under 13's – Coaches – Chris Perry – Community Sports Coach, ECB Level 2 also plays for our first eleven, John Pike – CRB Checked and 1st Eleven Opening Bowler and Matt Jones – 1st Team Vice captain and Opening Batsmen. The Under 13's Play on a Monday night.
Under 15's – Coaches – Andrew Silsby – CRB Checked, Club Chairman and Second Eleven Batsmen, Simon Driver- PE Teacher, ECB Level 1, 1st Team All Rounder. Tim Hudson – PE Teacher, ECB Level 2, 2006 – Second Eleven Batsmen of the Year. The Under 15's Play on a Tuesday night.
Age group training from Under 11's right through to Under 15's, will be on a Thursday night from 6.30pm – 8pm, all age groups will share the Outfield and our newly built 2 lane all weather cricket surfaced net facility.
If you have a player that is interested in playing or if you are available to help on a training night or match night then please contact the Club.
Three teams were entered in the Higham Youth League last season and although the results were disappointing, there were some encouraging signs for the future.
Nick Dawson and son Nathan did a great job of running the Under 15's and should have won a few more games than they did - losing matches when they were in winning positions. Tim Hudson was able to provide Nick with some support when work allowed. Nathan and Jamie progressed to playing adult cricket, with Nathan performing well in the Sunday Challenge winning side.
The Under 13's only had one regular player who was the correct age and some of the rest were playing their first season of cricket, so it wasn't surprising that we struggled so much. But their enthusiasm was infectious and they wanted to practice every week. I was able to run some sessions at Wollaston School in April and May and then we carried on with practice down the field on Friday evenings. Steve Solomon was a very big help and his efforts were gratefully appreciated. Simon Driver and Chris Perry were not able to give as much time as we had hoped, due to work and other commitments.
The Under 11's faired better winning a few games and were generally competitive in most of their matches. Friday night practices went very well and I must say a big thank you to Mike Brown who was a massive help along with the parents who were all very supportive. We also had a group of 7, 8 and 9 year olds who also came to practice and whom I hope will form the basis of the Under 11 team over the next few years.

2006
We are now using the principles of 'Club Mark' and I have also attended a Welfare Offices Course run by the Northants Cricket Board.
We hosted a number of Northants Youth matches at Wollaston during the season and thanks should be extended to John Hodges for preparing the wickets and to club members who gave up their time to help get things ready. I know the Cricket Board were very pleased that they could hold matches at Wollaston.
On the playing front only Chris Perry and Liam Bates played for the NYC, both in the ECB Under 17 competition. Chris captained the side that contained three Young England players, all of whom also played for the Northants 2nd Eleven during the season. Going into the last round of games Northants were lying second out of the seven teams, behind Warwickshire who had finished their games but in front of Yorkshire and Lancashire. Unfortunately the game against Yorkshire was rained off without a ball being bowled and Warwickshire qualified for the County Final, which they won. Chris and Liam are hoping to be selected for the Under 19's next season.
We also had four boys selected in the Wellingborough District squads and congratulations should be extended to the following players. Ben Brown - Under 11 Josh Linnel - Under 11 Nathan Dawson - Under 15 Jamie Perry - Under 15

2005
THE ERNIE BRYAN MEMORIAL TROPHY
FOR BEST JUNIOR PLAYER
David Clarkson became the first recipient of this Trophy when it was presented by President Colin Barber at the Club Dinner at the end of the season. David, who lives in Northampton, had an outstanding season at Under Thirteen level and is a worthy winner. He is presently representing Northamptonshire in his age group and we are hoping he will progress to representing Wollaston at senior level in the future.

2003
We entered two sides in the Higham Youth League last summer at Under Eleven and Under Fifteen age groups. I coached the former and Nick Dawson the latter.
A large number of the players in both squads were a year younger than the designated squad age, so for most of games we played against stronger and more experienced teams. As such, results were not great but both sides managed a few wins, showed a lot of enthusiasm and put up some credible performances.
Under Elevens'
It has been a number of years since we have had an U11's team and it was quite enjoyable to coach players of this age again. The naivety of the young players made me want to both laugh and cry on a number of occasions during the season, but that's part of the job in trying to make them better players and getting them to enjoy playing cricket.
Here are a couple of examples that illustrate what I mean:-
1. Away to Wellingborough - I was umpiring at the bowlers end and reminded the Wollaston batsman to back-up. He does so -about a metre - as the ball is played back down the pitch. A fielder runs in and throws the ball at the stumps at the
non-strikers end, but misses the stumps. I motion to the batsman to get back in his crease, but he stays put as the bowler, who is backing up, takes aim and has a go, which again misses. I then tell him to get back in his crease, but to no avail and he stayed where he was as another fielder picked up the ball and walked to the stumps, took the bails off and ran him out.
2. Away to Irthlingborough - The Irthlingborough umpire had a white coat on and while I was standing at square leg a young Wollaston fielder came up to me during the over and said, " Why has that man got a butchers coat on?"
But the players' were keen and turned up every week for practice, and although they were very often beaten they did achieve a couple of wins against Finedon A and Finedon B.
Under Fifteens'
Nick had to work hard on occasions to get a side together, but generally the U15's were quite competitive. They achieved a few good wins, notably against the O.G.s and Oundle.
A number of players put in consistent performances during the season and a few of them would benefit from playing Senior Sunday friendly cricket next season.
Nick and I would like to thank the parents for their support and Lynn for her help.
Indoor Cricket
We have entered both sides in the indoor league, which runs between October and December. This maintains the lads' interest in cricket, whilst hopefully helping them to improve their techniques.
New Coaches
Congratulations to Simon Driver, Tim Hudson and Christopher Perry who have qualified as Level 1 coaches.
Neal Perry

1998
Under 11's At The Double !
The Under 11's had another great season, following on from last year's shared Higham League title and County Runners Up spot.
The 1998 season started with rain and our first game against Finedon 'A' being cancelled with no prospect of it being re-arranged, I wonder why?
The rest of the league games were all played and won, so we reached our last game against Oundle knowing that the winner of the match would win the league. The team played very well and we won the game comfortably by 50 runs and without losing a wicket.
We used ten boys throughout the season and they all made vital contributions to the league title win.
The team reached the KO Cup finals day which was held at Finedon and were drawn against Isham in the second semi final, with the victors playing the winners of the other semi between Finedon 'A' and 'B'
In a close semi final it was our bowling and fielding that saw us through as we took ten Isham wickets to restrict them to 204. We made a tentative reply with some tight bowling from Isham, however despite our last pair losing a wicket in the 15th over we were still able to win by 8 runs.
With only a twenty minute break the final against Finedon 'B' started and after losing the toss we were asked to bat. We batted very positively and lost three wickets in reaching 250.
When Finedon began their reply it was our superior bowling and fielding that put us in charge and by the end of the 12th over the game was effectively won as we took eleven wickets in those dozen overs, which gave their last pair an impossible task. However this did not prevent every run this pair scored being loudly cheered, which made the Wollaston boys nervous and a number of over throws were given away which made the crowd cheer even louder. The skipper than got the fielding back on track and having a comfortable cushion of runs, moved the field back to give the batsmen a single and ensured a comfortable return throw to the bowler or wicket keeper. The game finished with a comfortable win by 40 runs for Wollaston and the double achieved.
After the game the team were presented with the league Shield and KO Cup by Mr. Carvell and Mr. Coleman on behalf of the Higham League.
Neal Perry – Under 11 Manager