Welcome to Wollaston Cricket Club's website. Wollaston Cricket Club is CLUBMARK accredited and competes on Saturdays in the Northamptonshire Cricket League. Our thriving Youth Section supports teams at Under Nine, Under Eleven, Under Thirteen and Under Fifteen.

ANNUAL GENERAL MEETING APPOINTMENTS
At the AGM on December 13th, Mark Ralph was elected First Eleven captain - replacing Chris Perry who has stood down after seven seasons at the helm. His deputy will be Harry Broome.
The Second Eleven will be led by last year's vice captain Mark Carter who replaces Darren Laughton who served for eight seasons in charge. Simon Driver was elected vice captain.
PLEASE NOTE THE FOLLOWING DATES:
WINTER NETS
Youth Net
1 x Lane on a Wednesday Evenings between 7pm and 8pm – from January 16th to March 27th (11 weeks)
Adult Net
1 x Lane on a Thursday Evening between 8pm and 9pm – from January 17th to March 28th (11 weeks)
-----------------------------------------------------------------------------------------------------------------------------
ANNUAL DINNER
Saturday March 2nd 2019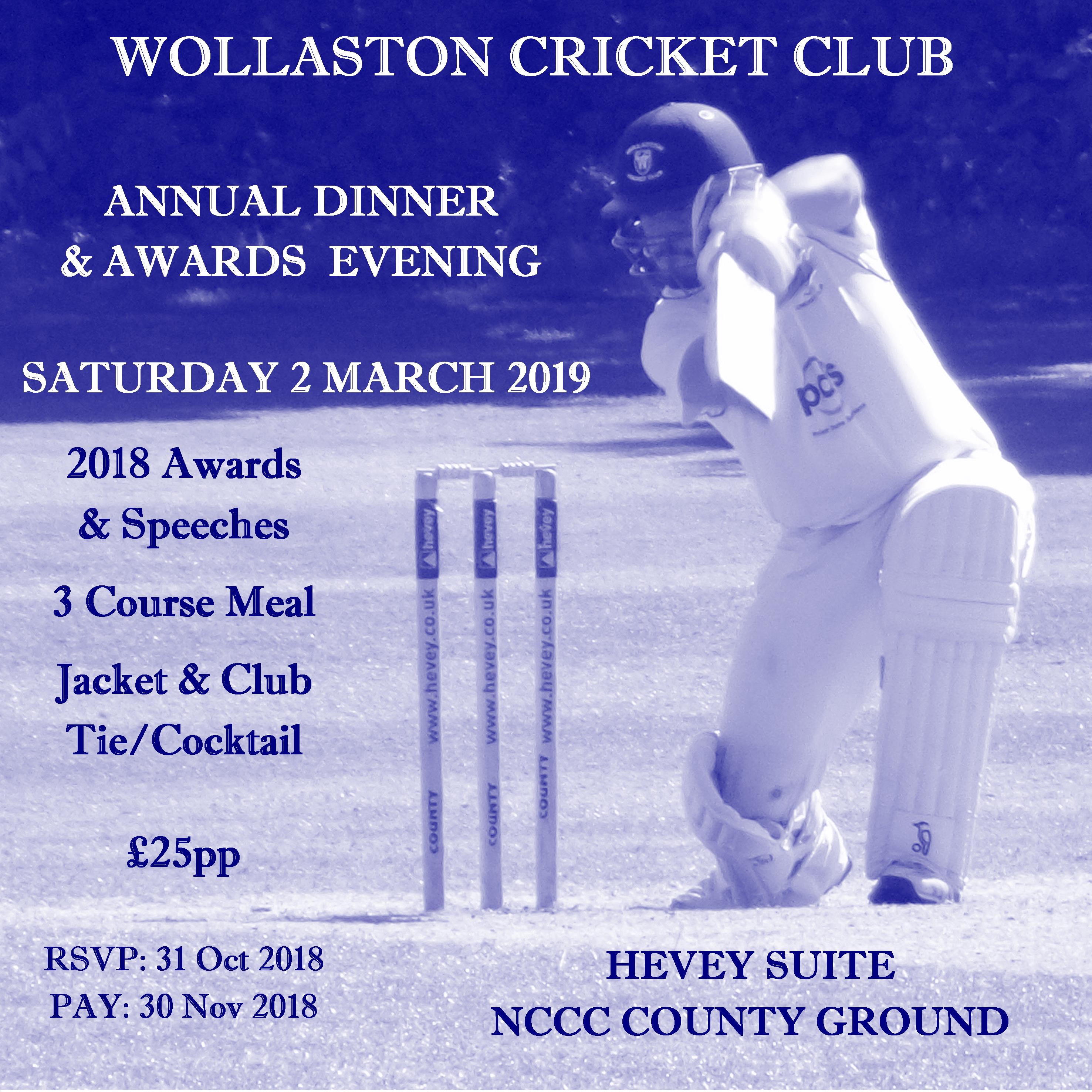 You are ALL invited to an evening of glitz and glamour at the Wollaston Cricket Club Annual Dinner and Awards Evening in the Hevey Suite at Northamptonshire County Cricket Ground on Saturday 2nd March 2019.
Doors to the event will open at 6.45pm with a 3 course dinner served shortly after followed by speeches and the 2018 Season Awards.
To book your place, please contact the club.



CURRENT LEAGUE TABLES


OUR SPONSORSHIP PARTNERS
Wollaston Cricket Club would like to say a massive THANK YOU to all our Sponsorship Partners who helped support our club through 2017. The money raised from our Partners alongside the endless support from volunteers, has seen our little village club develop from our position in 2016 and provide a perfect foundation for further growth in 2018. We hope to see you all there..........
Print Data Solutions, Oracle Solutions, Andy Luck Building Solutions, Croyland Car Megastore, G&M Roofing Ltd
Green & Co Renewables, John White Shoes, Matthew Nicholas, Milton Keynes Preparatory School
NPS Shoes, R.H.Lee The Family Butchers, Shorn Wheeler Professional Painting & Decorating Services
Solovair, Spectrum Chemicals, The Local Kitchen Company Ltd, Tilley's Wines, Wellingborough Tyres
Whibleys News, Food & Wine & Wollaston Post Office & Wollaston Marketing........thank you all!

ARCHIVE INCLUDING REVIEWS OF PREVIOUS SEASONS
INCLUDING AVERAGES, FINAL LEAGUE TABLES & PLAYERS OF THE THE YEAR

TABLES & RESULTS 2018
Premier Division Division Three Division 9 All Divisions Previous results Junior results

http://wollaston.play-cricket.com/ http://ncl.play-cricket.com/ http://www.nclgrounds.co.uk/
http://highamanddistrictleague.play-cricket.com/