S,
CONGRATULATIONS GO TO ASHTON MUSGRAVE AND MARK RALPH
During the Annual League Dinner held at the County Ground, Ashton was presented with the Under 17 League Bowler of the Year Trophy, while Mark received the award for his outstanding achievement of 1000 league runs. Well done to both!
------------------------------------------------------------------------------------------------
A BLAST FROM THE PAST
Can you name the year, the players and umpire?
And which team is it?
SCROLL DOWN TO THE BOTTOM OF THE PAGE FOR THE ANSWER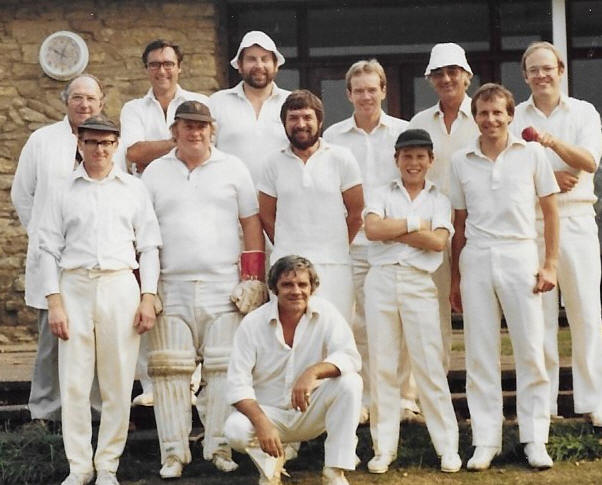 RECORDS AND MILESTONES 2021
2021 proved to be quite a season with regards to new records and milestones. More so with the bat than the ball.
Mark Ralph grabbed the headlines with his monumental run total of 1,005 for the season at an average of 67, sailing past the previous best of 794 runs achieved by Paul Jones in 1981. Mark scored three centuries during the season (another record), plus five 50's.
In addition Mark set a new record partnership for any wicket with fellow opener Matthew Jones of 227 against Finedon 2nds and the team score of 328 runs against Weekley & Warkton was another "new high".
Cameron Monteith finished two short of 600 runs for the season including his first century and Matthew Jones made 531 - taking him to second place on the leader board with 61 fifties - seventeen behind Nick Shelton, while at the same time going past his dad for most First team runs. Again, second only to Nick.
Skipper Harry Broome's 323 runs and 39 wickets sees him feature on the All rounder list for the first time and Chris Perry's 39 scalps put him just 5 short of 800 and in second place for most wickets, at a remarkable average of 14.91. Chris also takes the record for "Most Six Wickets in an Innings" after taking 6 for 39 against Irthlingborough. He has now done it twelve times!
With the gloves Mark Carter stands at number two in the 'Most Wicket Keeper Dismissals' list but is still 72 behind Rex Boddington.
Chris Perry, with 114, is now third on the list of Most Outfield Catches – only six behind second place John Pike.
------
For the Seconds Steve Musgrave is rapidly climbing up the Most Runs chart. His 2,604 come with an impressive average of 31 and include five centuries and fourteen 50's.
However, he has a long way to go before he can challenge Rex Boddington's haul of 6,071 runs and Marcus Shelton's 35 x 50's, although 'challenge he may'.
-----------
Unfortunately for the Thirds, runs were in short supply for most of the season and the 29 all out team score against Kettering 3rds was a record we didn't really want!
Nick Dawson's 11 wickets over the season takes him to 201 at an average of 16.77 - only sixteen short of David Ward's 217 at 15.15 and Adrian Ward's 6 for 23 against Braunston Paddock is his fourth "fifer" - one more than Alex Melia, James Pegg and Nick Dawson
HIGH SCORES, RECORDS BROKEN AND A TROPHY TO FINISH
The 2021 season was completed in the middle of September, and as hoped we picked up some silverware after a very competitive campaign.
It was disappointing for our First team to lose to Loddington in the Division One final but on the same day our Seconds overcame Oundle 2nds in the Third Division play off and came out winners by three wickets. Oundle 175 for 7 - Wollaston 176 for 3. Ironically, despite falling short of runs in the final, our First team scored plenty over the course of the season and along the way set a new Wollaston team score record of 338 for 8 in the game against Weekley and Warkton. Mark Ralph led the way with 159 and in doing so pushed his run total for the season to 1,005.
For the Seconds, all-rounder Steve Musgrave scored 611 runs and took 26 wickets at the miserly average of 12.08 but was pushed all the way for the honours by his son Ashton who claimed 25 wickets.
Although the Thirds struggled at times during the season, a final league position of around halfway in Division Nine proved they competed well overall - especially considering that we had a number of Under Thirteens playing regularly.
As well as our youngsters performing admirably in the senior teams, the junior squads performed well in their own right. The U10s and U15s finished in seventh position in their respective divisions with the U13s doing slightly better - nestling in fifth place. In addition to our younger players 'doing the business' for Wollaston some of them starred for the County and the following received awards at the end of season Northants Annual Review:
Emma Gibbs U13 - Batter of the Year. Alex Laws U11 - Batter of the Year.
Rohan Mehmi - Academy Player of the Year.
A number of Wollaston juniors represented Northamptonshire during the season:
Charlie Luck U10. Tom Luck U11. Charlie Carter U14. Harry Dolan and Ashton Musgrave U15.
A great effort by the youngsters and loads of thanks and appreciation to all the coaches who give up their time to ensure Wollaston have stars for the future.
Off the field it is pleasing to report that the new three lane net facility has finally been completed and will be up and running as soon as the weather allows next spring. It should prove a real asset to both senior and junior players and assist the coaches throughout the season.
So it was a more "normal" season compared to 2020 although along the way it looks like we have lost the traditional cricket tea after the majority of clubs voted to stay with the new "take your own" arrangement. No more cucumber sandwiches, Victoria sponge and hot strong tea at tea time?
LEAGUE TABLES 2021

Captain Nathan Dawson and his squad after their victory over Oundle 2nds

Check the up dated records

FINAL AVERAGES

2021

First Team

Second Team

Third Team

Wollaston CC Cup Winners 1883 - 1887
MEDIGOLD HEALTH

We are pleased to announce Medigold Health as our newest sponsor ahead of the 2021 season

SCROLL DOWN TO PHOTOGRAPH BELOW.............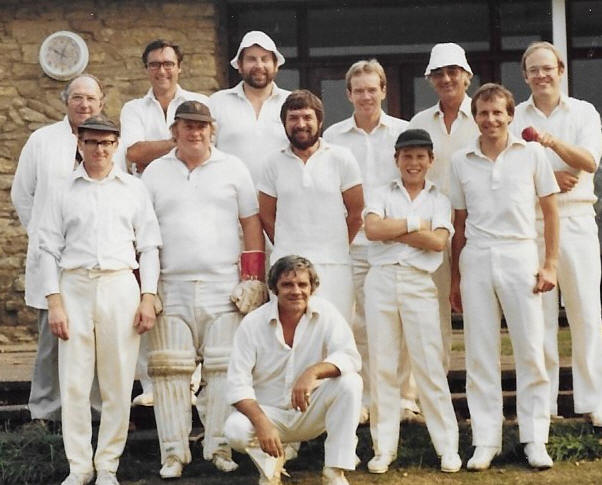 Fred Gower (ump) Mike Pinfield Pat McLaughlin Brian Summers Alan Brealey Kevin Tivvey
Tony Boddington Pete Underwood Tony Grace Nick Shelton David Ward
Dick Underwood
It's our Second Xl, Bank Holiday Monday May 7th 1984

<![if !supportLineBreakNewLine]>
<![endif]>
BECOME A PARTNER OF WOLLASTON CRICKET CLUB
Choose the right package for you!
Click here to read our Brochure
Click here to contact us Sponsors


ttp://wollaston.play-cricket.com/ http://ncl.play-cricket.com/ http://www.nclweb.co.uk/
http://highamanddistrictleague.play-cricket.com/