CONTACT US FIND A LEAGUE GROUND
Welcome to Wollaston Cricket Club's website. Wollaston Cricket Club is CLUBMARK accredited and competes on Saturdays in the Northamptonshire Cricket League. Our thriving Youth Section supports teams at Under Nine, Under Eleven, Under Thirteen and Under Fifteen.

If you would like to subscribe to the free Wollaston CC Texting Service and receive news of Club events, results, and match cancellations etc, please email your mobile number to wollaston.cricket@googlemail.com
You can unsubscribe at any time
STEELERS SUMMER CAMPS 2018
Different Activity for Hardball & Softball Participants. Exclusive Goody Bag & T-Shirt, Plus Prize Draws at Every Camp
To Book and for more information click here
24-26th July Burton Latimer CC 1-3rd August County Ground 14-16th August Brackley CC 28-30th August Saints CC
what else is on? click
Sat July 14th
FIRST ELEVEN SUFFER 8 WICKET LOSS AGAINST SAINTS
Wollaston 181 for 9 in 50 overs Saints 184 for 2 in 29.4 overs lost 2 points
Robert Bassin 42 Harry Broome 26 scorecard
--------------------
SECONDS WIN BRAGGING RIGHTS IN LOCAL DERBY
Wollaston 167 all out in 46.3 overs Irchester 110 all out in 28.4 overs won 25 points
Kamran Bahra 30 Steve Musgrave 29 & 6 for 13 in 9 overs scorecard
----------------------
THIRDS LOSE TO LEAGUE LEADERS BY 161 RUNS
Heyford 2nds 270 for 5 in 40 overs Wollaston 109 all out in 28.5 overs lost 4 points
Craig Boddington 20 scorecard

July 7th
UNDER 15's LOSE TO RUSHDEN
Wollaston 101 for 7 in 16 overs Rushden 104 for 2 in 13 overs scorecard

Fri July 13th
UNDER 11's BEAT FINEDON
Wollaston 151 Finedon 120 won scorecard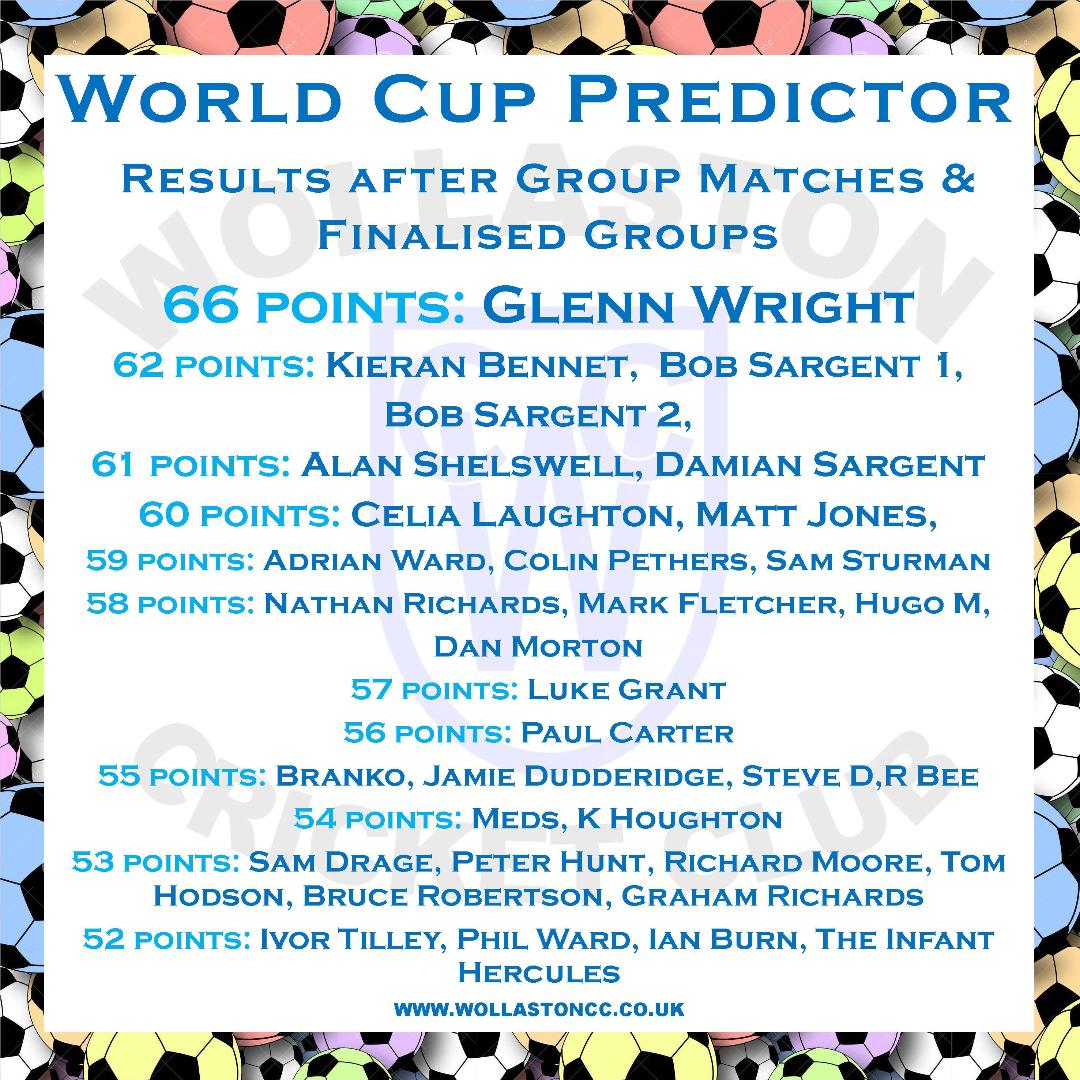 THIRD TOTE DRAW - WINNERS - JUNE 29th 2018


WHAT'S ON click



UNDER NINE TOURNAMENTS 2018

YOUTH CRICKET COACHING
COACHES
Under 11s – James Day & Matthew Grant Under 13s – Darren King Under 15s – Andrew Monteith
New players welcome - please contact the Club at wollaston.cricket@googlemail.com


OUR SPONSORSHIP PARTNERS
Wollaston Cricket Club would like to say a massive THANK YOU to all our Sponsorship Partners who helped support our club through 2017. The money raised from our Partners alongside the endless support from volunteers, has seen our little village club develop from our position in 2016 and provide a perfect foundation for further growth in 2018. We hope to see you all there..........
Print Data Solutions, Oracle Solutions, Andy Luck Building Solutions, Croyland Car Megastore, G&M Roofing Ltd
Green & Co Renewables, John White Shoes, Matthew Nicholas, Milton Keynes Preparatory School
NPS Shoes, R.H.Lee The Family Butchers, Shorn Wheeler Professional Painting & Decorating Services
Solovair, Spectrum Chemicals, The Local Kitchen Company Ltd, Tilley's Wines, Wellingborough Tyres
Whibleys News, Food & Wine & Wollaston Post Office & Wollaston Marketing........thank you all!

INCLUDING AVERAGES, FINAL LEAGUE TABLES & PLAYERS OF THE THE YEAR

TABLES & RESULTS 2018
Premier Division Division Three Division 9 All Divisions Previous results Junior results

http://wollaston.play-cricket.com/ http://ncl.play-cricket.com/ http://www.nclgrounds.co.uk/
http://highamanddistrictleague.play-cricket.com/