CONTACT US FIND A LEAGUE GROUND
Welcome to Wollaston Cricket Club's website. Wollaston Cricket Club is CLUBMARK accredited and competes on Saturdays in the Northamptonshire Cricket League. Our thriving Youth Section supports teams at Under Nine, Under Eleven, Under Thirteen and Under Fifteen.

If you would like to subscribe to the free Wollaston CC Texting Service and receive news of Club events, results, and match cancellations etc, please email your mobile number to wollaston.cricket@googlemail.com
You can unsubscribe at any time
STEELERS SUMMER CAMPS 2018
Different Activity for Hardball & Softball Participants. Exclusive Goody Bag & T-Shirt, Plus Prize Draws at Every Camp
To Book and for more information click here 14-16th August Brackley CC 28-30th August Saints CC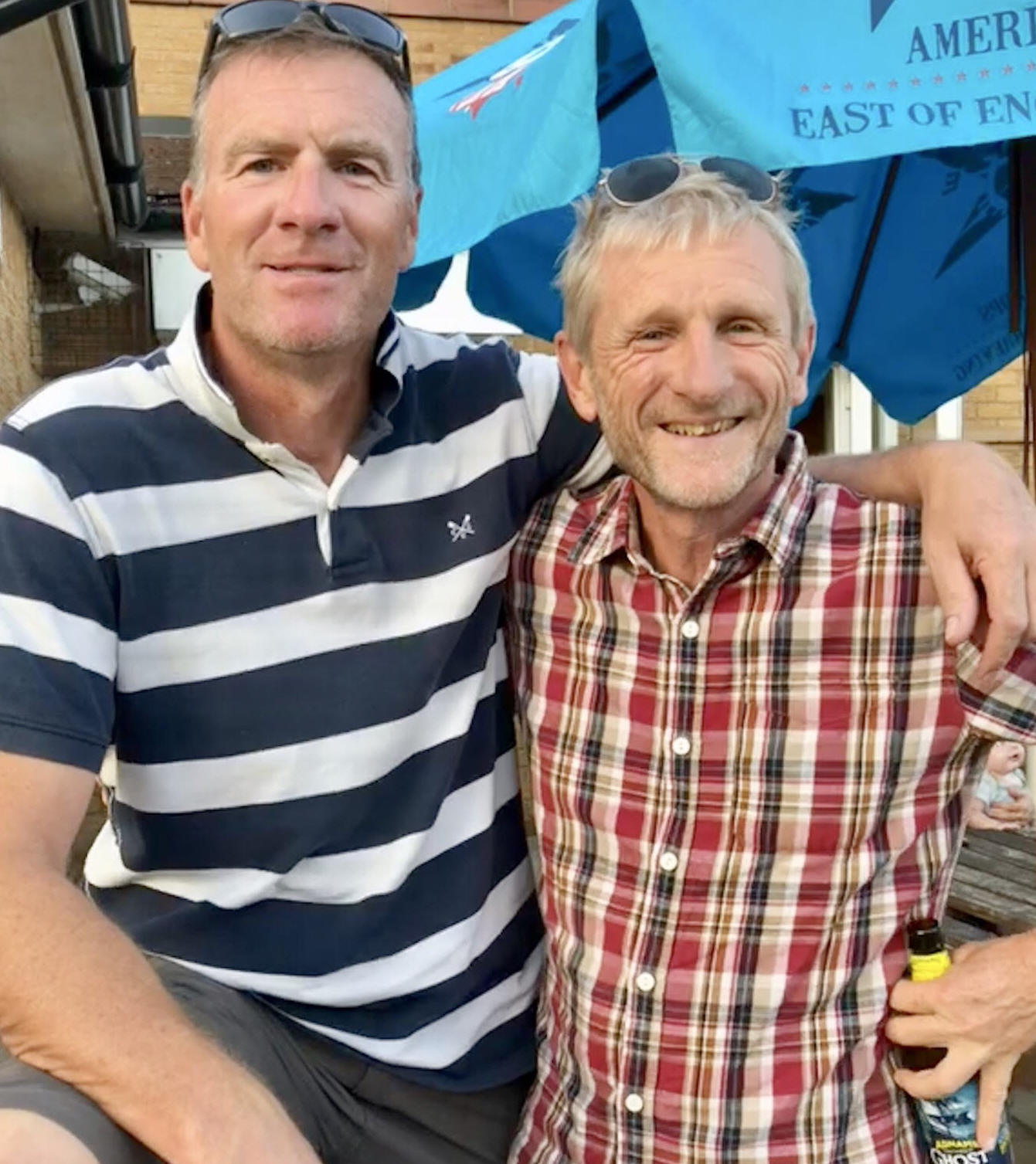 NEW CLUB RECORD
First WCC Double Century Partnership
Andy Luck and Paul Jones pictured after setting a new club batting partnership in the game against Wellingborough 3rds on August 4th.
Openers Andy and Paul amassed an unbeaten 210 in just 29.1 overs to take the Third Team to a ten wicket win.
It is a club record for any wicket including all three WCC teams - beating the previous best of 196 set by Matthew Jones (son of Paul) and Darren King, for the First Team in 1996 at Overstone.
Andy struck 20 fours in his 107 not out while Paul's 62 not out included ten boundaries.
Their achievement came just one week later than the 170 they accrued for the first wicket against St. Crispin Rylands in which Paul made 79 and Andy 66.
Wellingborough Town 3rds 209 for 2 in 40 overs Wollaston 210 for for 9 in 29 .1 overs scorecard

SIXTH TOTE DRAW - WINNERS - AUGUST 10th 2018

Sat Aug 11th
FIRST ELEVEN SUFFER HEAVY DEFEAT AGAINST RUSHDEN
Rushden 204 all out in 49.1 overs Wollaston 116 all out in 30.3 overs lost 4 points
Pat Bright 34 Cam Monteith 19 Robert Bassin 3 for 41 off 9 overs scorecard
--------------------------------------------------------------
CHASING 288 TO WIN, SECONDS ARE 43 RUNS SHORT AT OUNDLE 2nds
Oundle 287 from 7 in 50 overs Wollaston 245 all out in 48.4 overs lost 6 points
Lewis North-Row 60 Andrew Monteith 3 for 64 off 10 overs scorecard
---------------------------------------------------------------
A BRAVE EFFORT BY DEPLETED THIRDS
Gt Houghton 221 for 3 off 40 overs Wollaston 167 all out (8) in 33.2 overs lost 5 points
Andy Luck 35 Paul Jones 56 scorecard

SIXTH TOTE DRAW - WINNERS - AUGUST 10th 2018

Aug 5th
UNDER 19's BEAT KETTERING
Kettering 103 for 8 in 20 overs Wollaston 107 for 2 in 12.3 overs
Harry Broome 53 Pat Bright 30 scorecard

August 5th
UNDER 11's BEAT RUSHDEN IN K.O. CUP
Wollaston 106 for 5 Rushden 82 for 4 scorecard

Sat Aug 4th
FIRST ELEVEN LOSE BY 7 WICKETS AT BRIGSTOCK
Wollaston 197 all out Brigstock 198 for 3 lost 3 points
Luke Bartier 94 not out scorecard
--------------------------------------------------
SECONDS WIN ANOTHER NAIL-BITER AGAINST RUSHDEN 2nds
Rushden 178 for 9 in 48.1 overs Wollaston 180 for 9 in 31.4 overs won 26 points
David Mercer 42 Steve Musgrave 30 and 2 for 40, Andy Kowal 2 for 20, and John Pike 2 for 38 scorecard
------------------------------------------------
RECORD OPENING STAND WINS IT FOR THIRDS AGAINST WELLINGBOROUGH 3rds
Wellingborough 209 for 2 in 40 overs Wollaston 210 for 0 in 29.1 overs won 26 points
Andy Luck 107 not out Paul Jones 62 not out scorecard

Sat July 28th
FIRST ELEVEN
No game due to Rushton C.C. pulling out of Premier division.
All points gained in games against Rushton are expunged.
------------------------------------
SECONDS PILE UP THE RUNS TO BEAT STONY STRATFORD 2nds
Stony Stratford 227 all out in 39.1 overs Wollaston 231 for 5 in 37.1 overs won 27 points
Patrick Bright 91 Darren Laughton 41 not out Steve Musgrave 4 for 53 off 12.1 overs scorecard
-------------------------------------------
THIRDS HAVE A RUN FEST AGAINST St CRISPINS RYELANDS 3rd
Wollaston 265 for 5 in 40 overs St Crispins 209 for 5 in 40 overs won 27 points
Paul Jones 79 Andy Luck 66 Andrew Monteith 40 not out scorecard

CURRENT LEAGUE TABLES up to August 3rd 2018

what else is on? click




YOUTH CRICKET COACHING
COACHES
Under 11s – James Day & Matthew Grant Under 13s – Darren King Under 15s – Andrew Monteith
New players welcome - please contact the Club at wollaston.cricket@googlemail.com


OUR SPONSORSHIP PARTNERS
Wollaston Cricket Club would like to say a massive THANK YOU to all our Sponsorship Partners who helped support our club through 2017. The money raised from our Partners alongside the endless support from volunteers, has seen our little village club develop from our position in 2016 and provide a perfect foundation for further growth in 2018. We hope to see you all there..........
Print Data Solutions, Oracle Solutions, Andy Luck Building Solutions, Croyland Car Megastore, G&M Roofing Ltd
Green & Co Renewables, John White Shoes, Matthew Nicholas, Milton Keynes Preparatory School
NPS Shoes, R.H.Lee The Family Butchers, Shorn Wheeler Professional Painting & Decorating Services
Solovair, Spectrum Chemicals, The Local Kitchen Company Ltd, Tilley's Wines, Wellingborough Tyres
Whibleys News, Food & Wine & Wollaston Post Office & Wollaston Marketing........thank you all!

INCLUDING AVERAGES, FINAL LEAGUE TABLES & PLAYERS OF THE THE YEAR

TABLES & RESULTS 2018
Premier Division Division Three Division 9 All Divisions Previous results Junior results

http://wollaston.play-cricket.com/ http://ncl.play-cricket.com/ http://www.nclgrounds.co.uk/
http://highamanddistrictleague.play-cricket.com/