Welcome to Wollaston Cricket Club's website. Wollaston Cricket Club is CLUBMARK accredited and competes on Saturdays in the Northamptonshire Cricket League. Our thriving Youth Section supports teams at Under Nine, Under Eleven, Under Thirteen and Under Fifteen.

PAUL JONES RECEIVES HIS 50 LONG SERVICE AWARD AT LEAGUE DINNER
Paul receives his Long Service Award from journalist & former Middlesex bowler Simon Hughes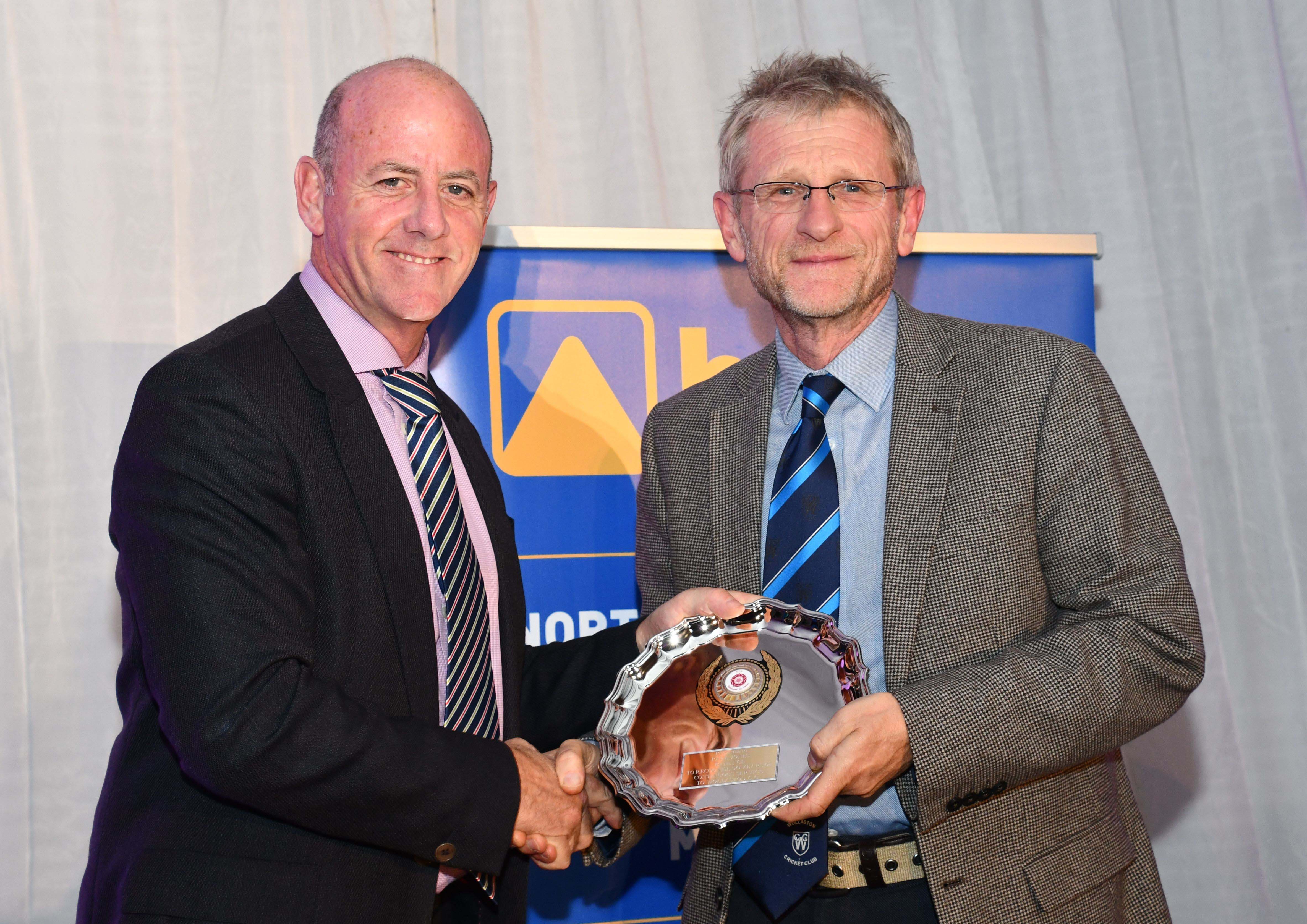 Paul, who is a "one-club" man, made his league debut for Wollaston as a fifteen year old in 1968.
Since then, mainly as an opening bat he has gone on to amass over 16,000 runs (including this year's total of 446) and his tally of 794 in 1981 is still a Wollaston club record.

He has been captain of all three senior teams, and off the pitch he has served on the General Committee for over 45 years, during which time, in addition to helping maintain the ground, he has taken on the responsibility of Chairman, Treasurer, Secretary, Youth coach and Bar Manager (but not all at once!) and most Friday nights can be found dispensing drinks and bonhomie at the club bar.

OLLY STONE - WOLLASTON CLUB NUMBER 168, MAKES HIS ENGLAND ODI DEBUT
Olly made his Wollaston debut in 2013 and has taken nine wickets for the club at an average of 22.33 with a best of 5 for 57 in the victory against Peterborough. He also made an unbeaten 132 not out against Oundle.
He received his England cap prior to the first Sri Lanka v England ODI on October 10th at Dambulla which was washed out after 15 overs, but got a part of the action in the second One Dayer when he took 1 for 23 off 6 overs and made 9 not out in a 24 run last wicket stand with Adil Rashid.
He remained wicketless after his three over spell in the 3rd ODI where England went 2-0 up in the five match series.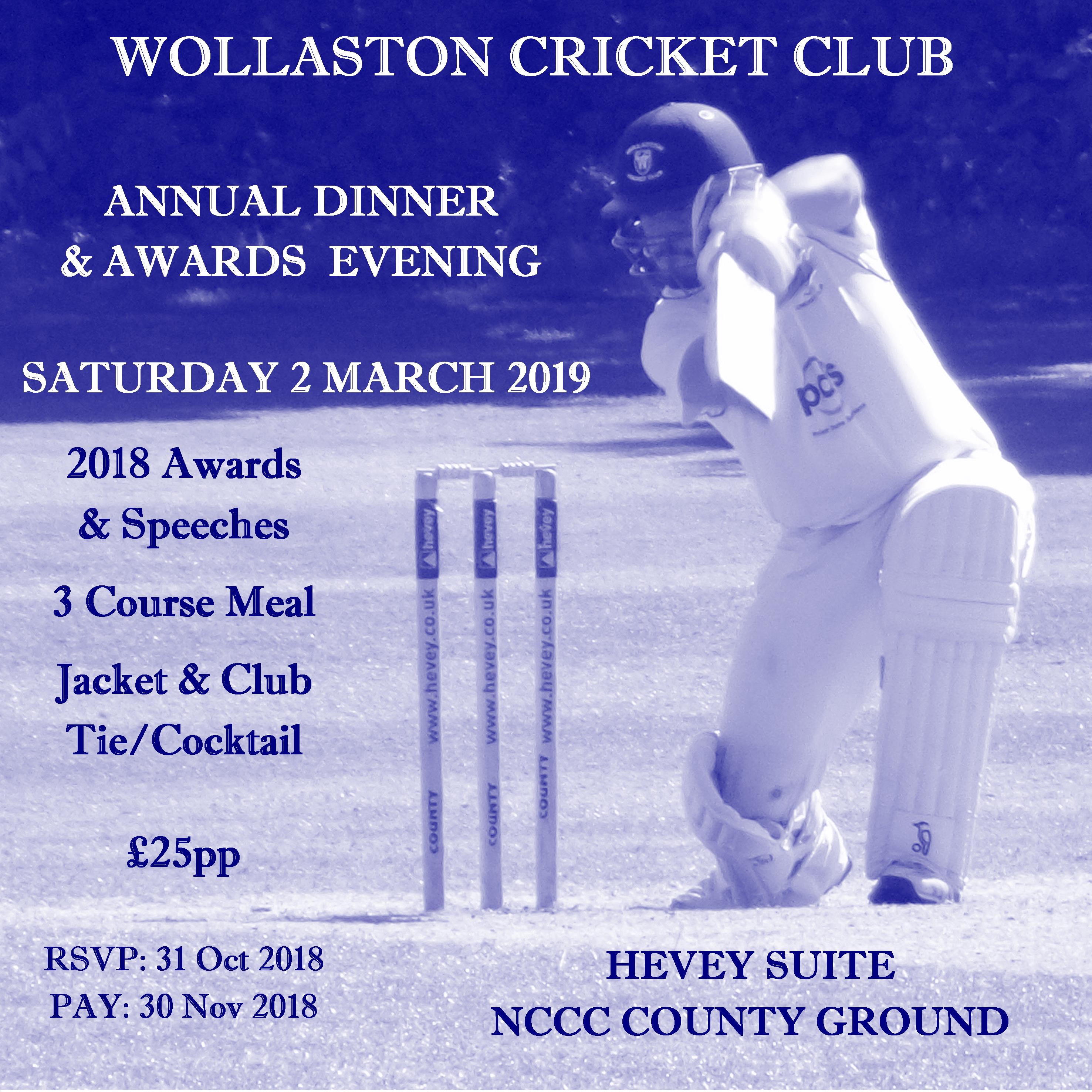 You are ALL invited to an evening of glitz and glamour at the Wollaston Cricket Club Annual Dinner and Awards Evening in the Hevey Suite at Northamptonshire County Cricket Ground on Saturday 2nd March 2019.
Doors to the event will open at 6.45pm with a 3 course dinner served shortly after followed by speeches and the 2018 Season Awards.
To book your place, please confirm the number of tickets required and the name of each guest before the 31st October 2018. Payment is due in full, without fail before 30th November 2018.
Any questions or queries, including any specific dietary requirements please contact Mark Ralph.



CURRENT LEAGUE TABLES


OUR SPONSORSHIP PARTNERS
Wollaston Cricket Club would like to say a massive THANK YOU to all our Sponsorship Partners who helped support our club through 2017. The money raised from our Partners alongside the endless support from volunteers, has seen our little village club develop from our position in 2016 and provide a perfect foundation for further growth in 2018. We hope to see you all there..........
Print Data Solutions, Oracle Solutions, Andy Luck Building Solutions, Croyland Car Megastore, G&M Roofing Ltd
Green & Co Renewables, John White Shoes, Matthew Nicholas, Milton Keynes Preparatory School
NPS Shoes, R.H.Lee The Family Butchers, Shorn Wheeler Professional Painting & Decorating Services
Solovair, Spectrum Chemicals, The Local Kitchen Company Ltd, Tilley's Wines, Wellingborough Tyres
Whibleys News, Food & Wine & Wollaston Post Office & Wollaston Marketing........thank you all!

ARCHIVE INCLUDING REVIEWS OF PREVIOUS SEASONS
INCLUDING AVERAGES, FINAL LEAGUE TABLES & PLAYERS OF THE THE YEAR

TABLES & RESULTS 2018
Premier Division Division Three Division 9 All Divisions Previous results Junior results

http://wollaston.play-cricket.com/ http://ncl.play-cricket.com/ http://www.nclgrounds.co.uk/
http://highamanddistrictleague.play-cricket.com/